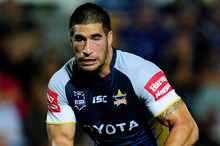 1. Match of the round
Warriors v Cowboys, Sunday
The Warriors haven't had too many kind breaks this season, however drawing the impressive Cowboys at home during a State of Origin stand-down period is certainly a slice of good fortune. The Cowboys are without Johnathan Thurston, Matt Scott, Turncoat Tamou and Brent Tate for sure and won't find out about fullback Matt Bowen until the 11th hour. The Warriors are bolstered by the return of hooker Nathan Friend.
2. B-i-i-i-i-i-g game
So just how important is Sunday's game for the 6-8 Warriors? Very, according to Mark Geyer. Asked on an Aussie telly jaw-flapping show whether the Warriors could forget about this season if they lost, big MG said: "Yep, and the next one." Wow, high stakes indeed.
3. Odds off
Let's see. The Cowboys head into Sunday's match sitting in fifth place with a 9-6 record. Last week they thrashed the Raiders 40-18. The Warriors have won just six of their 14 games and last time out blew an 11-point lead with 10 minutes to go. A week earlier they held the Broncos scoreless.
Sunday's odds: Warriors $1.18, Cowboys $4.40. That's the Origin effect for you right there.

4. Mid-season shuffle
It started with the Warriors offloading Krisnan Inu to the Bulldogs but it didn't end there. Ahead of today's transfer deadline, other moves have seen the Dogs further bolster their outside backs with the capture of Sam Perrett; the Roosters recruited former Junior Warriors hooker Nafe Seluini from the Panthers and sent Anthony Mitchell to the Cowboys; the Panthers dispatched Sandor Earl to Canberra; and the Storm picked up rugged Knights forward Richard Fa'aoso.

5. QueeNZLand Ben
"If Queensland have put the time and effort into developing a kid, then he should be playing for Queensland, and ultimately Australia. If New Zealand put in the time and effort, then the kid should play for New Zealand."
- Mal Meninga, February 17, 2012
"As for what the New Zealand Rugby League think I'm doing, I haven't poached a single player. Can someone tell me who I've poached?"
- Mal Meninga, June 21, 2012
June 26: Whangaparaoa born-and-raised former Hibiscus Coast, NZ U16 and Junior Kiwis player Ben Te'o selected for Queensland.
6. Traitor Tamou
Once was a Kiwi James Tamou hopes he is a trailblazer for other aspiring New South Welshmen. "I hope some boys might be looking at me and say, 'Well, if he did it, that's what I want to do.' I hope I might've started something there." As the bloke who sits next to the Herald's league desk said on hearing that: "What an a***hole."
By Steve Deane

Email

Steve