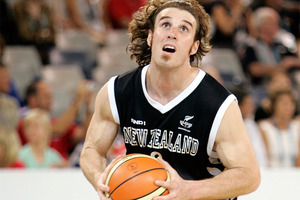 The New Zealand men's basketball side suffered their second heavy defeat in as many days when they went down to Greece 99-69 in San Carlos, Brazil, today.
The defeat comes on the back of their 73-49 hammering by Brazil yesterday at a four nations tournament as the team gear up for next week's Olympic qualifiers in Venezuela. The Tall Blacks need to finish in the top three of that tournament to qualify for London and that looks a virtually impossible task without injured duo Kirk Penney and Tom Abercrombie.
Corey Webster is also still serving a drug suspension and point guards Mark Dickel and Mike Fitchett are unavailable from last year's roster, meaning the roster is a young one.
Teenager Tai Webster, Corey's brother, emerged as the leading scorer for the second time in two days against Greece. The 17-year-old was was initially a surprise selection but his strong showing yesterday saw him promoted to the starting lineup against Greece and he responded with 18 points to lead all scorers against the world's fourth-ranked team.
"Tai has got a massive future ahead of him," captain Mika Vukona said. "I really didn't know what to expect from him when he first came into the team, but his composure for such a young kid in this role is great to see, especially with New Zealand's stocks in the point guard position very low.
"It's an awesome surprise and he's only going to get better. Tai's doing a great job for a young kid, telling everyone what to do and showing the leadership you really want from a point guard."
Webster had to replace veteran point guard Lindsay Tait, who was laid low with a stomach bug and is also doubtful for tomorrow's game against Nigeria. They have a chance against Nigeria, given the Africans were routed 104-65 by Brazil today.
Against Greece, the Tall Blacks out-rebounded their opponents 39-27 but turned the ball over 20 times and shot just 36 per cent from the field. They weren't good enough numbers to compete with a side that knocked down 40 per cent of their three-pointers.
Greece 99 (Printezis 17, Bourousis 13, Fotsis 12) New Zealand 69 (Tai Webster 18, Mika Vukona 15, Alex Pledger 13). HT 55-30.
- APNZ