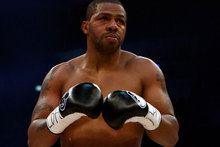 Abstinence makes the legs grow firmer. So says Monte Barrett, the American heavyweight boxer who is preparing for next Thursday's fight against Shane Cameron the same way he did for his last fight against David Tua - by steering clear of the temptations of the flesh.
"The No1 rule - women weaken legs," the affable Barrett said yesterday after cutting short a ring work session to indulge in a touch of showboating for the assembled TV cameras. "Stay away from women. I'm five weeks in so I am good."
Obeying the No1 rule hadn't always been a strength during a 16-year career that peaked with unsuccessful world title tilts against Hasim Rahman and Nikolay Valuev, he admitted. "I'm 41, I've got to realise I'm not the guy I was when I was 25 or 26. I did it for the Tua fight and I'm doing it for this fight."
Although Barrett has largely been a stepping stone for fighters on their way to bigger things, he has operated mainly at a level at which Cameron has only seldom dipped his toe. Cameron has just completed sparring camp with former world champion David Haye - a fighter who dominated Barrett in scoring a five round knockout in 2008 - but that won't help redress that imbalance in class, Barrett insisted.
"Desperate people do desperate things. If he wants to go over there and get beat up by Haye for three weeks, by all means let him. I just hope Haye saved a little bit for me."
Whatever happens next week, Barrett insists he has just one more fight left in him. He wants to go out with a bang and has a hit list that includes the Klitschko brothers, Haye and Tua.
Barrett, who is 35-9 with 20 KOs, called out the former title contender.
"Tua has white panties on. If he could take those off and act like a man then maybe we can do it. If he stops screaming and crying and making excuses about why he is 290lb [132kg] - he is a fat slob right now. He needs to get in shape and get himself together."
By Steve Deane

Email

Steve