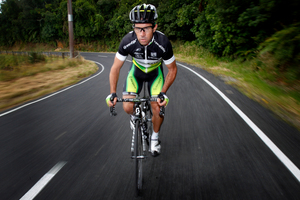 Julian Dean. Photo / NZ Herald
Julian Dean has missed out on a start in the road race at the Olympics and it's left him contemplating quitting cycling after 16 years as a professional.
The 37-year-old believed he would be fit in time to ride in his fifth Olympics, despite breaking his leg in March and missing out on his eighth Tour de France, which starts on June 30.
He is due to ride in next month's Tour of Poland but has been told by BikeNZ he isn't on their shortlist for the Olympics, with Greg Henderson and Jack Bauer the most likely to fill the two spots in the men's road race.
BikeNZ have submitted their nominations to the New Zealand Olympic Committee, which is due to announce the road team this week.
"I was told by BikeNZ that I was no longer being considered," Dean wrote on his website.
"The battle over the last weeks has been nothing less than that, 'a battle' and one that I feel like I have been losing more ground on than gaining.
"The objectives that I set were to make it back for the TdF firstly and then, secondly, to prepare for the Olympics, for which I had two plans, independent of riding the Tour or not. However, I have missed out on both of those goals.
"I have had to think hard, and that I have been doing a lot of. When do sheer guts and determination and pride succumb to hopelessness? When is enough, enough?
"At times during the last few weeks, my effort to make a rapid return to full recovery has had me swinging on the edges of sanity, with Carole and the boys paying for it, as loved ones most often do.
"So now it seems almost like I am left with nothing to do or shoot for, and in a sense it is almost right and it has made me think about hanging it up.
"But it just doesn't seem the right thing to do for any of us at the moment."
Henderson is in the box seat to secure a ride in London, given he will be the only Kiwi in the Tour de France. BikeNZ has stated it would look favourably on anyone who made the world's most famous cycle race and the decision now seems to be who to team with him.
Hayden Roulston is a strong option - he won silver in the road race at the Delhi Commonwealth Games and picked up two medals on the track at the 2008 Olympics - but Jack Bauer could be favoured, given his time trialling ability. New Zealand has qualified only two spots in the 260km road race and one can also ride in the time trial two days later.
Bauer finished 19th in the time trial at last year's world championships and also helped his Garmin-Barracuda outfit win the team's time trial at this year's Giro d'Italia.
"The great thing is we have incredible quality of four guys but the sad thing is two are going to miss out," BikeNZ high performance director Mark Elliott said. "You could run permutations of all four and know they would perform with distinction."
The decision in the women's field is easy. Two-time world championships time trial medallist Linda Villumsen will earn selection for both the road race and time trial.
- APNZ