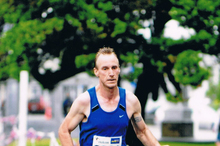 On May 29, last year, Kerry Faass' life changed forever. The then 45-year-old cable maker from Christchurch was returning home from a day of shopping in Ashburton with wife Helene when a car coming the opposite way crossed the centre line and hit them head on.
Faass was cut from the wreck and flown by helicopter to hospital.
"I have no memory of the accident at all. The last memory I have is of leaving Ashburton to come home," said Faass, who was disappointed to have had a ride in a chopper and not being able recall any of it.
As a result of the accident, Faass had a compound fracture of his right tibia, both his patella were smashed, a broken right wrist and concussion. His wife suffered a crushed right ankle, an injury which also proved slow healing.
They spent two weeks in hospital recovering from their injuries and were discharged on June 13.
"We were in the hospital for the first large earthquake, and just outside the hospital entrance in the loading zone for the second and larger quake.
"I was in a wheelchair and my wife was holding on to the back of my wheelchair so that she didn't fall over.
"My father had parked beside us to load us in and the front of his car was literally bouncing up and down, creeping forward at the same time, so that was an eventful day to leave the hospital."
Faass, who lines up in the Wellington Half Marathon tomorrow, was told differing stories by doctors about his future as a runner.
"One doctor said that he didn't think I would be able to run again, another saying that I might be able to get up to about 30 minutes' gentle running, and a physiotherapist saying that I could possibly get back to full running but probably not as competitive as I was.
"So far, it looks like the physiotherapist was right."
A year ago, Faass was the favourite for the half-marathon but the week before the race was the accident.
The Wellington event is his first race after the year-long recovery and while he doesn't expect to set the world on fire, he has predicted a time of 1hr 25min, which would see him among the top 10 veterans.
"It's pretty inspiring to see someone like Kerry lining up so soon after a life-threatening incident," said race director Sally Anderson.
"It shows us what running means to people, and that we can all achieve goals we might have thought beyond us. That's one of the reasons we organise this event."
In his youth, Faass was a real talent. He set a national record for the 2000m steeplechase and represented New Zealand three times in cross-country.
"I then took early retirement at the ripe age of 19. I returned to the sport 21 years later.
"My greatest achievement since running in the Masters would have to be my win in the Buller Half Marathon in 2010 in a time of 1:07:54."
The road back to full fitness for Faass was longer and harder than he imagined it would be.
"Who knew that running would be so hard when you are not fit? For something I used to find easy and natural I now find much harder. I have a new appreciation for everybody out there in the field giving it a go."
As a result of the accident he was off work for several months, as he could not sit in his vehicle for long.
But even though it is his return to competitive running and he has come from back the brink, there are no nerves. Faass is just happy to be there.
By Peter Thornton