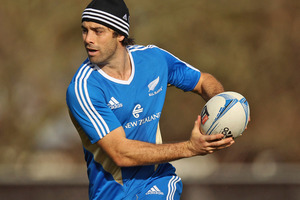 Tracey Nelson crunches the numbers ahead of the third test between the All Blacks and Ireland.
The last time the All Blacks played Ireland in Hamilton was in 2006, and they won that match 34-23. There are five players remaining from that match, Richie McCaw and Keven Mealamu for New Zealand, and Brian O'Driscoll, Ronan O'Gara and Donncha O'Callaghan for Ireland.
The last time the All Blacks lost in Hamilton was in 2009, when they went down 29-32 against the Springboks. They are yet to lose a test match to Ireland.
The six changes to the All Blacks this week sees Conrad Smith (57 test caps) making up over half of the 112 caps for the starting backline. Piri Weepu has 58 of the 59 caps for the reserve backs, with Tamati Ellison having just the one, and Beauden Barrett poised to make his debut.
Richie McCaw will have his first outing in the No 8 jersey in what will be his 100th start for the All Blacks (he has played 105 tests in total but came off the bench in six of them). He needs just one more try to achieve 100 test points for New Zealand, having scored nineteen tries in the black jersey.
Luke Romano will make his debut for the All Blacks at lock this weekend, and will be the oldest of the All Black debutants in this test series at 26 years. He also has some of the largest feet in New Zealand rugby, wearing size 17 boots.
Sean O'Brien and Cian Healey have been the top ball carriers for Ireland in this series, with a total of sixteen carries each for gains of 70 and 68 metres respectively.
Top tacklers for the Irish to date have been Sean O'Brien with 51 and Jamie Heaslip (out injured this week) with 50, while Adam Thomson (18) and Richie McCaw (16) have the highest tackle counts for the All Blacks.
In the 22 named for the All Blacks this weekend there are three Smiths, two Aarons, two Bens and two Sams. Aaron Smith is the 13th Smith to play for the All Blacks.
This will be the 27th test match between the two sides and the 11th to be played in New Zealand, a history spanning 107 years since the first test was played in Dublin in 1905.
It will be 12 years until Ireland tour New Zealand again.