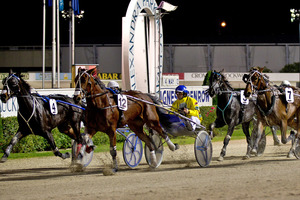 The future of Pick6 punting in this country could be on show at two tracks tonight.
The TAB will hold its first Turbo Pick6 in which the regular Friday night bet type is spread over two meetings - Alexandra Park and Addington - but completed in just 80 minutes.
That means punters have to dissect three races at each meeting, but with a guaranteed, terminating pool of $100,000.
Tonight is the perfect time to launch the new bet type, with Friday nights at this time of winter a regular punting boom for harness racing, as the All Blacks playing on Saturday nights means rugby-racing crossover fans are not as distracted.
Whether the TAB is angling to make the Turbo Pick6 more regular is unclear but it would suit them on some levels, with the jackpot being out of the way earlier in the night aiding turnover in later races and detracting less from quaddies. Now to the problem of actually striking the Pick6, which starts with a couple of average maiden races before becoming slightly easier later.
The first leg, at Addington at 7.03pm, sees a handy debutante in Mundaka (1), who ran second to Harness Jewels runner-up Mighty Flying Mac when qualifying.
But you could make a case for including Destiny In Motion (3), Letsdanceupastorm (6), Universal Rule (9) and even Carabella's little sister Lady Valencia (5).
At Alexandra Park, the second leg sees Lislady (2), who was unlucky last start, as the top pick ahead of Stepin Fetchit (4) and Pixel (8), with the first two legs worth going wide in.
Miss Moonlite (6) in the third leg at Addington paced a 1:54.7 mile two starts ago and raced in a far better field last start so stands out, with chances to Anita Patron (10) and Tyler Franco (9). However, you could make a case for anchoring Miss Moonlite.
Back to Alexandra Park and a junior drivers' race short on class means punters need Brydon Delight (1), Lucky John (4), Addies Girl (7), Ralph (8) and Distraction (9).
If that sounds like a lot, selections should become easier in the last two legs as the class factor increases.
Quality Invasion (9) in the last Addington leg has been flying and the small field negates his 30m handicap. If he races up to his last-start Ashburton performance he should win, with Master Bomber the improver, although he will need to improve about five lengths.
Seabreeze Star (Alex Park, R6) was just beaten in a far better field last Friday and has the gate speed to go forward and try to dominate from his four draw.
There were a couple of unlucky rivals last Friday though and it is worth throwing in Pashana (8), Forte Chapel (6) and even Vegas Delight (10) for the blowout.
Turbo Pick6 aside much of the interest tonight will be in the Thames Cup at Alexandra Park in which Sir Lincoln again faces a 55m handicap.
He found that too difficult last Friday but that was in a similar race where Fly Like An Eagle led and paced a 55-second last 800m.
Tonight's race doesn't boost such classy front liners, with Bettor Dream looking the most logical danger to the Auckland Cup winner and Stirling Point the possible improver.