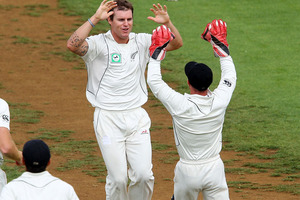 Doug Bracewell wants to send off outgoing New Zealand cricket coach John Wright with a successful swansong on the upcoming tour to the West Indies.
Bracewell was disappointed to see Wright leave and said his impending departure was the common denominator, motivation-wise for the series as the squad prepared to leave on Sunday.
"He's obviously got a lot of respect from the guys and he's done pretty well, so it'll be sad for Wrighty to leave," Bracewell said.
"We'll be looking to make this West Indies tour a big one for him and send him off on a high note."
Bracewell had been watching the Windies in action on TV on their current tour of England.
"I've heard it's a lot similar to India and Sri Lanka over there, so I think we'll be expecting pretty slow and low wickets," he said, relieved to have worked on the length of his deliveries in the subcontinent during his six-week stint in the IPL with the Delhi Daredevils that ended last month.
He considered himself lucky to have had West Indies all-rounder Andre Russell in his IPL team.
"I saw a little bit of him, because he's likely to be playing in the shorter form."
Keeping Chris Gayle on a leash during the tour will be paramount, after the former Windies captain exorcised his demons in a drawn-out impasse with his parent cricketing body.
"We have to figure out some plans on where to bowl to Gayle and watch a few videos - but, yeah, he smokes them everywhere, so ... " Bracewell said with a grin.
The 21-year-old took a fortnight off after returning from the IPL before getting into his gym routine and a few net sessions per week.
Team-mates who gave him tips on what the IPL would be like in India had been "spot on".
"It's pretty crazy and the crowds were unreal.
"I'd never played before so many people before in the one game I played," he said of the match against Gayle's Royal Challengers Bangalore.
He took three scalps, a catch, a run-out and was 12 not out, but rued not getting to bowl to Gayle, who didn't play before the crowd of about 65,000; other grounds accommodate 80,000-plus fans.
"It's a good buzz entertaining so many fans, so that's pretty cool."
Overall, it was fair to say Bracewell fought boredom in the hotel-to-hotel nomadic existence.
"I would have liked to have played more games. I thought I'd have got a couple more but that's the way it goes," he said, accepting it's hard to change a winning formula unless there were injuries.
Having said that, he didn't feel the IPL stint was a waste of time because he also got some much-needed rest after a hectic 2011-12 summer.
"It was a definitely good six weeks for me because I bowled to different batsmen and did quite a bit of work in the nets."
- Hawkes Bay Today
For more articles from this region, go to Hawkes Bay Today