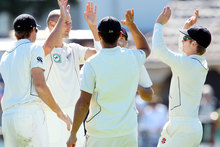 New Zealand Cricket has announced the schedule for next summer's home series against England, which features a test match at Eden Park for the first time since 2006.
The international summer will open with England playing two Twenty20 warm-up matches against a New Zealand XI before facing the Black Caps in three Twenty20 Internationals, three one-dayers and three test matches from February 1 to March 26.
NZC chief executive David White said the upcoming home summer presented fans with a good variety of cricket against a quality international side who are currently the top-ranked nation in the test and Twenty20 formats.
"A feature of the schedule is the return of test cricket to Eden Park. Auckland hasn't hosted a test match since 2006 and we felt the England tour presented a good opportunity allocate a match to our largest city,'' White said.
"An inbound England tour brings in a large number of supporters who create a wonderful atmosphere and we are sure the people of Auckland will turn out in force to see two quality teams in what promises to be a fantastic occasion.
"We felt it was important to schedule an international match in the South Island and a test match at University Oval was the logical choice. It was 1966 when the England team last played a test match in Dunedin so I'm sure the locals will get behind the event.
"Unfortunately we were again unable to schedule a match in Canterbury due to the lack of a suitable venue for international cricket. There are always challenges when finalising a schedule, but we think the 2012-12 National Bank Series offers fans around the country with good opportunities to go and support international cricket this summer.''
Tour dates:
Twenty20 Series
Mon, Feb 4: New Zealand XI England, Cobham Oval, Whangarei (T20 warm-up)
Wed, Feb 6: New Zealand XI England, Cobham Oval, Whangarei (T20 warm-up)
Sat, Feb 9: First Twenty20 international at Eden Park, Auckland
Tue, Feb 12: Second Twenty20 International at Seddon Park, Hamilton
Fri, Feb 15: Third Twenty20 International at Westpac Stadium, Wellington
One-day international series
Sun, Feb 17: First ODI at Seddon Park, Hamilton
Wed, Feb 20: Second ODI at McLean Park, Napier
Sat, Feb 23: Third ODI at Eden Park, Auckland
Test series
Wed, Feb 27-Sat Mar 2: NZ XI v England, Queenstown Events Centre (four-day warm-up)
Wed, March 6-10: First test at University Oval, Dunedin
Thurs, March 14-18: Second Test at Hawkins Basin Reserve, Wellington
Fri, March 22-26: Third Test at Eden Park, Auckland
- APNZ