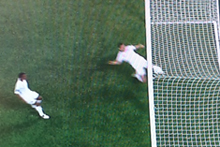 England fans can now stop talking about the Frank Lampard disallowed goal against Germany at the 2010 World Cup.
England advanced to the Euro 2012 quarterfinals this morning with a 1-0 win over Ukraine but it could have been a different result after the tournament co-hosts were denied a legitimate equaliser.
England defender John Terry cleared a Marko Devic shot off his own line in the 62nd minute - with TV replays showing the ball had actually crossed the line.
Despite an extra assistant standing five metres away with a clear view, the referee waved play on.
The controversy will likely add to the pressure on UEFA President Michel Platini to reverse his opposition to goal-line technology.
"I was sad because the ball was in the goal by one metre,'' Ukraine coach Oleg Blokhin said.
FIFA will decide on July 6 whether to approve the new five-official system tested at Euro 2012 and two goal-line technology systems.
Two years ago at the World Cup in South Africa, England were on the receiving end of a goalline controversy after Lampard looked to equalise their second round match against Germany. The goal wasn't allowed and Germany went on to win the match 4-1.
- HERALD ONLINE/AP