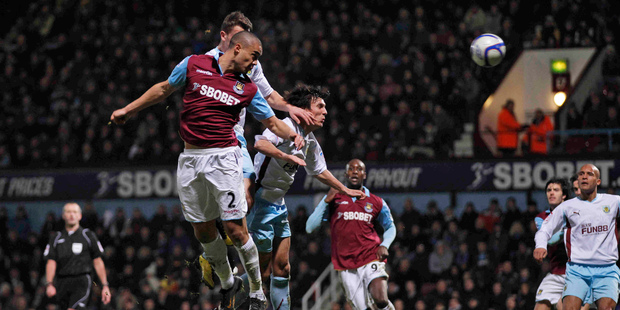 Winston Reid (front) says he's disappointed to miss out on a chance to play at the Olympics but understands West Ham's reasons for refusing to let him go. Picture / AP
West Ham United boss Sam Allardyce has scuttled Winston Reid's Olympic dream.
The 23-year-old defender was set to be named tomorrow along with Ryan Nelsen and Shane Smeltz as one of the three over-age players in the New Zealand team for the London Olympics but when Nelsen leads the team out for their first game at the Olympics, against Belarus at the City of Coventry Stadium on July 26, Reid will be in Germany with West Ham on a pre-season tour.
New Zealand Football chief executive Grant McKavanagh confirmed the national association had written to West Ham seeking a release for Reid but Allardyce had turned down the request saying Reid was an important member of their squad and needed work to prepare for his return to the English Premier League.
Reid played three games for West Ham in the premiership at the back end of the 2010-11 season - following his transfer from Danish club FC Midtjylland for what was a reported £4 million ($7.9 million) deal - before their relegation to last season's Championship where he was a regular starter.
Allardyce apparently feels Reid, who played at age-group level for Denmark before his All Whites debut, sight unseen by coach Ricki Herbert in May 2010, needs more work in preparing for West Ham's return to the big time.
West Ham head to Europe on July 23 and play FC Rot-Weiss Erfurt two days later. They then meet Dynamo Dresden on July 27 and end their German sojourn on July 29 with a game against FC Energie Cottbus.
McKavanagh has spoken with Reid who said he was very disappointed at missing his chance to play at the Olympics but understood the club's stance.
"Naturally you want to have your best players available," said McKavanagh. "But it is up to the club in the end to say yes or no."
As basically an under-age team (under-23), players do not come under Fifa's jurisdiction which, in the case of senior teams, rules a player must be released for internationals or stood down by the club at that time.
McKavanagh said the most pressing concern was establishing Nelsen's availability after he missed this month's Oceania Nations Cup in Honiara through injury.
"Ryan has come out and said he will be fit and ready to play at the Olympics and that he had been given the okay by Mark [his new boss Mark Hughes at QPR]," said McKavanagh. "He sees it as Ryan's last chance to play at this level and won't stand in his way."
Nelsen led the team in Beijing four years ago with Simon Elliott and Chris Killen joining him as the over-age players.
Given the apparent defensive strength within the squad with Nelsen's confirmed availability, coach Neil Emblen might look elsewhere in naming a replacement for Reid.
Some teams have looked at goalkeeper as one option but that position appears adequately covered so Emblen might go for players like midfielders Michael McGlinchey or Aaron Clapham or perhaps striker Rory Fallon when he submits his team to the New Zealand Olympic Committee.
New Zealand's three group matches at the Olympics will be played at Coventry City's home ground (against Belarus), Old Trafford in Manchester (against Egypt on July 29) and Newcastle's St James' Park (against Brazil on August 1).