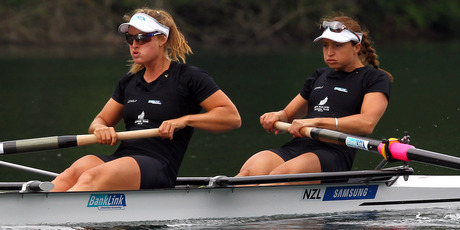 Two-time world champions Juliette Haigh and Rebecca Scown now know the size of their Olympic challenge.
The coxless pair last night lost their second consecutive World Cup final to British duo Helen Glover and Heather Stanning, beaten by almost four seconds in the final of the Munich regatta.
The New Zealanders won the world crown at Lake Karapiro in 2010 but just pipped the Britons by .08s at Bled last year. So far this year, Glover and Stanning have dominated the New Zealanders. They won the Lucerne regatta late last month, with Haigh and Scown third behind the American crew.
This time Britain led all the way, Haigh and Scown were comfortably second the whole journey, recording 7min 37.62s, with Romanians Georgeta Andrunache and Viorica Susanu third a further four and a half seconds back.
However men's pair Eric Murray and Hamish Bond had a comfortable win last night. The overwhelming Olympic favourites clocked 6:42.97 to head home Australians James Marburg and Brodie Buckland (6:47.72) and France's Germain Chardin and Dorian Mortelette (6:48.72).
The quad of John Storey, Michael Arms, Adam Tripp and Robbie Manson finished second in their B final last night.
The coxless four of Jade Uru, Ben Hammond, Chris Harris and Sean O'Neill could manage only fourth in their B final.
By David Leggat

Email

David