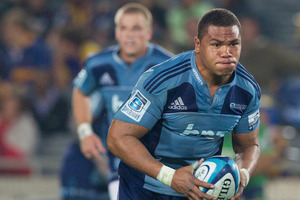 Bits of biff always get the adrenalin going, even from the safety of the spectators' seats.
Rugby is a gladiatorial sport and the occasional duke or dust-up is a consequence of the collisions, interference or illegalities.
A few weeks back, Blues loosie Peter Saili held on to Chiefs lock Michael Fitzgerald, and was eventually clouted for his persistence.
Saili deserved a clout because the referee and his assistants did nothing about his interference.
Fitzgerald went to the bin for losing his rag, but escaped any further punishment.
Both players should have been admonished or sent to the cooler.
When Fitzgerald's deeds are compared with those that earned Highlanders flanker James Haskell and Blues loosie Luke Braid bans for several matches earlier in the competition, the iniquity is more apparent.
Mutterings could be heard about the Sanzar judicial system.
But it got worse in the North-South game, a fundraiser for the new stadium in Dunedin which became a charity case for three players.
It was a match sanctioned by the NZRU, with some amendments made on the number of replacements.
There was no talk of any judicial concessions yet three of the four players charged with their part in a sideline brawl escaped punishment.
Brendon Leonard was exonerated for a tip tackle, Dane Coles escaped for his part in that and for striking, and Kendrick Lynn avoided any punishment for retaliatory punches.
Blues lock Filo Paulo was banned for five weeks for punching, as judicial officer Roger Drummond said a clear message had to be delivered about his unacceptable actions.
That's understood - his late arrival to clout Tom Donnelly on the beak was cowardly.
But there's also a message that the actions of Leonard, Coles and Lynn were justified and approved.
Somehow those three, whose teams are still in the search for Super 15 playoff places, got a much better deal than a bloke whose Blues side is well off the pace.
All of them should have got some sanction if the NZRU is serious about maintaining some consistency with the penalties Sanzar imposes during its programme.
Much of the pre-television violence has been eradicated, but rugby remains a game won by controlled aggression.
The odd bop on the hooter can be accepted but when you see three blokes involved in an ugly brawl, escape punishment while another has his season rubbed out, that's a red-card decision for me.