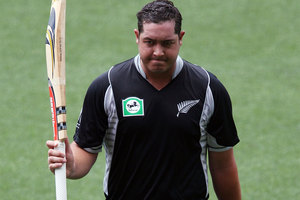 Jesse Ryder could be back in a black cap as soon as this summer - if the national selectors are willing to give him another shot.
Ryder last month declined a contract from New Zealand Cricket, choosing to spend the winter away from the sport to work through some well-publicised personal issues.
But the mercurial batsman, speaking today while promoting his fight with radio host Mark Watson on the undercard on next month's Shane Cameron bout, hoped his hiatus from the Black Caps would come to an end sooner rather than later.
"This was never about taking the year off and completely not doing cricket,'' he said. "I just wanted a little bit of a break to try new things. Once summer comes around, I love the game, so I'll be rearing to go.''
The loss of that love was the main motivation behind Ryder turning down a central contract and the remuneration which comes with it.
"I just didn't enjoy it so I wanted to get that enjoyment back. I don't want to just continue my career going along and not enjoying it because then it doesn't show performance on the field.
"The goal was get back, get fit, get back into enjoying it, and once that's all good I'll be good to go.''
The 27-year-old didn't expect to walk back into the Black Caps after sitting out a busy winter touring programme - with trips scheduled to the West Indies, India, Sri Lanka and South Africa - and he planned on playing his way into form on the domestic scene before putting up his hand.
"That's not up to me, really - whether I'm selected. I think it's hard for them to pick someone that hasn't been playing. If I'm going to start it will be summer for Wellington Firebirds to get some cricket under my belt.''
Ryder has had battles with the bottle throughout his four years in the New Zealand side, most recently being censured for breaking a self-imposed alcohol ban after an ODI defeat to South Africa in Napier in March.
After playing in last month's Indian Premier League - where he took with him a clinical psychologist and his manager - Ryder announced he intended to step away from the media glare involved with being a Black Cap.
Ryder didn't see a contradiction in avoiding cricket due to the associated publicity while entering into a heavily-promoted boxing event.
"The whole media side of the thing was to get away from the cricket side of stuff. I've got no issue with media, I don't hold grudges about what's been said about me and all that. There will be some comments that I don't agree with but that's just how it is.
"I don't mind promoting the fight and stuff like that. It's not about cricket, it's about the fight.''
The fight was one of a number of pursuits Ryder was looking forward to during his spell on the sidelines. He began boxing as a way of keeping fit but is now eyeing up the Fight for Life charity event later in the year. He is also set to play his first golf tournament at the Wainuiomata Golf Club this weekend.
"I'm taking this winter to venture out and do new things. And this is perfect - it's taken my mind away from cricket for a bit,'' he said.
"Later on down the line, come summer, I'll get back into the cricket and hopefully become a much better player and much better person and surely that'll help the team in the long run.''

- APNZ