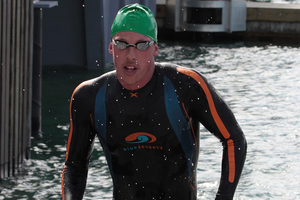 The face of open water swimming has changed forever according to Rotorua swimmer Kane Radford after he missed out on his Olympic dream in the final qualifying event in Portugal today.
The 21-year-old from Swimming New Zealand's high performance centre finished in 27th place, to be 1m 44s behind the winner, Beijing 1500m freestyle champion Tunisia's Oussama Mellouli at Setubal, Portugal.
The top nine swimmers, with a limit of one per country, automatically qualified for the London Olympics.
Radford swam alongside Mellouli at the head of the field for the four of six laps before the Tunisian turned up the wick and the fast men flew past the kiwi with speed that the Rotorua man has not witnessed in open water swimming before.
After a solid pace around 17m 30s for the 1.6km lap, Mellouli changed gears with a 16m 10s penultimate lap and a withering sub-15 minute final lap to spread-eagle the field.
"I'm definitely not happy with my overall result,'' said Radford. "Everything was going right and tactically I thought it was a very good race. But they just took off those last two laps and they had another few gears to change up to.
"I would be willing to put money on him (Mellouli) to win the gold at the Olympics with the speed he showed in those last two laps. It was something unbelievable. You had to witness it to see how fast that change of speed was.
"It's hard to believe you could swim 7-8km and still have that much speed left in the tank.''
Radford was uncertain if more pace early would have helped his cause.
"May be with more pace early it may have been better for me. But it is always going to be a steady pace and come down to those last 2km and whoever has the extra gear to change up to and they definitely had it.
"I've never been in a race that has changed gears so quickly and so fast. It has opened my eyes that it is the way it is going now, that you have to have that amazing turn of speed over the last 2km.''
While disappointed, Radford said he would be sitting down with his coach Mark Regan to plan his future in the sport.
"There wasn't much left in the tank today. I gave it everything and it wasn't my day. It is all pretty disappointing although looking at the age of those guys I still have plenty more years hopefully to come back and do what those guys did today in four years time and being up there.
"I still have plenty more years to get more experience and perhaps get that feeling from swimming more races at that level so I can learn to change those gears more easily.''
Radford was the leading Oceania swimmer home with compatriot Jonathan Pullon (Waterhole, Auckland) finishing 43rd in 1:53.30.
Yesterday Queensland-based Cara Baker finished 17th and Taranaki's Charlotte Webby 29th in the women's race.
Results, elite men 10km swim, Setubal, Portugal: Oussama Mellouli (TUN) 1:45.18, 1; Richard Weinberger (CAN) 1:45.30, 2; Petar Stoychev (BUL) 1:45.34, 3. Also New Zealanders: Kane Radford 1:47.02, 27; Jonathan Pullon 1:53.30, 43.
- APNZ