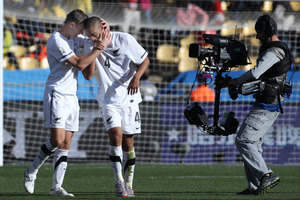 The All Whites will win the Oceania home-and-away playoffs and take on the fourth-best side in Concacaf for a place at the 2014 World Cup in Brazil.
It's difficult to say with quite as much conviction after Friday's disappointing 2-0 defeat to New Caledonia but it will still happen.
The All Whites have struggled tremendously with the conditions in Honiara and were made to look ordinary by teams made up of part-time players. They could still finish a lowly fourth at this tournament if they are beaten by the Solomon Islands today - a result that would eclipse the disastrous campaign of 2004 when they were beaten 4-2 by
Vanuatu in Adelaide and finished third.
But they don't become a bad side overnight.
Less than two weeks ago they beat Honduras 1-0 and drew 2-2 with El Salvador, teams the Oceania winner could well meet in an interncontinental playoff, and were unbeaten at the 2010 World Cup.
As much as they have struggled in Honiara, their opposition will struggle with playing in New Zealand.
Many in the Solomons squad, for instance, didn't have a passport heading into the Oceania Nations Cup - a prerequisite for the tournament. Travelling to and playing in New Zealand will be a completely foreign and potentially overwhelming experience for some of them.
The advent of the O-League in 2007 means island players are more familiar with what is required but it hasn't always translated into success.
In 2008, for instance, Waitakere United were beaten 3-1 by Kossa (Solomons) in the first leg of the final in Honiara but thumped 5-0 in the return leg in Auckland.
This season, Tefana (Tahiti) were beaten 10-0 and Mont-Dore (New Caledonia) 4-0 by Waitakere in Auckland. Koloale (Solomon Islands) went down 4-1 to Auckland City in Honiara and 7-3 at Kiwitea St.
Tefana improved considerably throughout the tournament and went on to top their group (ahead of Waitakere) and play Auckland City in the final, where they were beaten 2-1 in Auckland and 1-0 at home.
There is a reason why Auckland City and Waitakere United have won every title except 2009/10 when Papua New Guinea's Hekari won and, although club football doesn't necessarily translate to international football, it's one of the reasons why there is still extreme confidence in the All Whites camp. They should also be able to call on Ryan Nelsen, Winston Reid and a fully fit Mark Paston and Glen Moss.
Tournament football clearly doesn't suit them, however. They appeared to be too worried about the end result in Honiara, winning the tournament, that they didn't focus enough on the immediate. They also let the conditions get the better of them.
They should have come into their first game intent on making a statement that they were the top dogs and wouldn't be deposed. Instead, they scraped past Fiji and Papua New Guinea and then played a weakened team against the Solomon Islands.
All of a sudden, they went from a team that was unbeaten at the World Cup to one that could be toppled. The mystique, that air of invincibility, was gone.
"I think New Zealand will qualify for the World Cup after stage three," New Caledonia coach Alain Moizat said. "I am down to Earth about that but they will probably take the lessons of today.
"They will play some games at home so they will have some advantage because I don't think they acclimatised very well to the heat."
They will have less chance in the next phase, which are played in short Fifa windows. They will need to fly their team in from around the world, play the game and fly out almost as quickly.
The squad met yesterday to dissect what has happened in Honiara.
Herbert did a lot of the talking but veteran Ivan Vicelich said it was important to remember what it was like to lose.
"A few of the boys touched on how we have to keep this feeling of disappointment fresh to drive us in the next round," he said. "The bigger tournament is still there and the dream [of the World Cup] is still alive.
"We have found it difficult in these conditions but when we get the crowd behind us and in New Zealand conditions we are going to excel. If we can grind out results away, we can hopefully dominate at home."

- APNZ