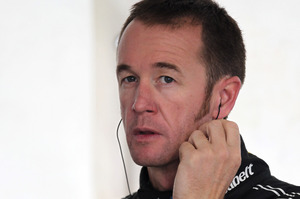 Murph goes under the knife
V8 Supercar driver Greg Murphy is to have further surgery on his troublesome back next week. Despite recent work on the disc he ruptured at the Clipsal 500 in Adelaide, he's still in pain. He'll have the vertebrae fused and will be out of action for around three months. No replacement driver has been named yet.
Scott Dixon back on points track
Kiwi IndyCar racer Scott Dixon has got his title chase back on track after a second at the Indianapolis 500 and a win in Detroit last weekend. With the bag full of points collected Dixon is now in second place in the championship behind Will Power heading to Fort Worth, Texas for the Firestone 550 this weekend.
Kiwis ready to fly in Romania enduro
This year's Red Bull Romaniacs extreme enduro at Sibiu, Romania, on June 14-17 will have a number of Kiwi riders. Sean Clarke, his teenage son Jesse, Kevin Archer, Phillip Cheater, Doug Herbert, Mark Delautour, Duncan Mclaren and Mark Newton will join former winner Chris Birch.
McIntyre and Lester teaming up
V8 SuperTourer driver John McIntyre has confirmed fellow-Kiwi Jono Lester will partner him in the three-round endurance race series from September to November this year. McIntyre says Lester's race results, fitness and experience make him the ideal co-driver.
Back injuries sideline Stanaway
Formula Renault 3.5-litre racer Richie Stanaway will be out of action for several weeks with the back injuries he suffered in last weekend's crash at Spa Francorchamps. He fractured two vertebrae when he ran over the back of Carlos Huertas on the run to Les Combes in the wet second race of the weekend. He may not have to miss any FR 3.5 races as the next round at the Nurburgring is almost a month away, June 29-July 1.

Under the hood
While we here in New Zealand are rubbing our hands with glee in anticipation of a round of the WRC returning to our shores, things aren't so rosy for the championship back at home base in Europe. June 15 is shaping up to be a watershed date for the series as the governing body is preparing to slap the various rally organisers in 2013 with an extra $160,000 on top of the quarter-million-dollar calendar fee - an all-up increase of $200,000. Part of the problem has been the demise of the North One Sport television sponsorship and series sponsor Nokia leaving the sport. June 15 is when the World Motor Sport Council sits to announce the 2013 calendar. However, the various race hosts were given only a week to sign up to the new deal and the deadline was yesterday so watch this space.