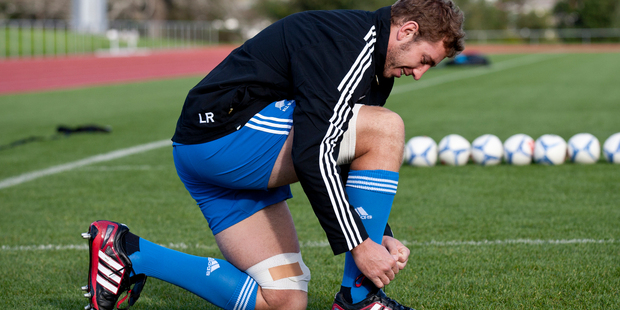 All Black Luke Romano has several pairs of custom-made size 17 boots, each pair colour co-ordinated to match his playing strips.
Luke Romano has had big boots to fill following Brad Thorn's footsteps into the Crusaders and now the All Blacks.
Even bigger, in fact, than the mighty Thorn's.
The lock, one of the newcomers in the All Black squad for the Ireland tour and hoping to make his debut in Christchurch in next week's second test, wears size 17s.
He needs custom-made boots - and has a soccer stalwart to thank for getting him on the field.
Laurie Blyth, owner of the Frontrunner sports stores and a former national league player and coach who played for Christchurch United when they dominated Kiwi soccer in the 1970s, makes them for him.
"He made a pair, just a generic pair that would fit me, and then slowly modified them so they fit my foot properly," said Romano.
"It took about five or six pairs to get that right."
Blyth had helped him out "big time", he said. "Without him I'd maybe be playing in a pair of boots encased in tape holding them together."
Having supersize feet doesn't stop him being fashionably colour co-ordinated, either.
Romano has red and black boots for Canterbury and the Crusaders, blue, black, and white ones for club High School Old Boys and a couple of pairs of slinky peach boots which match the Crusaders' platinum and red change strip.
At the All Black training camp last month, team sponsor adidas measured him up to get new boots specially made in anticipation of All Black selection.
- Christchurch Star