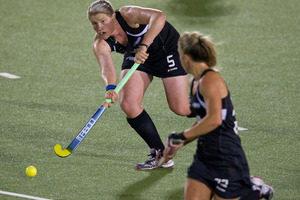 The New Zealand women's hockey team has lost 3-2 to hosts Korea in the first of three test matches in Taeneung, Korea.
Playing in 30 degree heat, Korea made the most of their opportunities early on and despite goals from Katie Glynn and Krystal Forgesson in the second half, it was not enough to give the Kiwis the result they were after.
Despite the Kiwis holding possession and dominating play in the opening spell, Korea scored from a penalty corner in the 11th minute. Throughout the game both Korea and New Zealand were each awarded another four penalty corners, but nothing came of them.
The Black Sticks continued to attack, with Sam Harrison coming close to leveling up the scoreboard when she took two shots at goal but both deflected off the cross bar.
Defensive gaps opened and the game swung in Korea's favour, when the home side scored two field goals before half time stretching their lead to 3-0.
In the second half, the Black Sticks fought hard to get back in the game and it was field goals from Glynn and Forgesson in the 36th and 38th minute respectively that helped give the Kiwis a chance of victory but it was not enough to secure a first game win.
"Defensive errors cost us tonight. We need to be more clinical in the attacking third and really work hard to finish off the chances that we create," said Black Sticks coach Mark Hager.
The Black Sticks Women play their next game against Korea at 6.30pm (NZ time) this Wednesday.