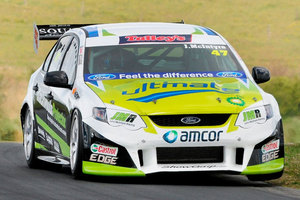 Nelson's John McIntyre overcame poor handling in the third race of the Mike Pero 250 to do just enough to win V8 SuperTourers Sprint Series title today - by just two points from Jonny Reid.
Reid started way down the grid after his retirement in the second race. A gearbox change on Ford Falcon V8ST was completed in time for him to take the start, and he quickly fought his way up to seventh after the start.
As McIntyre slipped back through the field with handling problems, Reid moved through and back into title contention. Seventh became sixth, then fifth and as the race entered its final stages Reid put a great move on Andre Heimgartner to take fourth.
McIntyre struggled throughout the race and after 33 laps, eighth place with Reid in fourth was the lowest he could afford to be in, and with Paul Manuell all over the JMR lead driver in the final two laps, the destination of the Sprint Series title hung in the balance.
Over the last lap Manuell attacked in the Orix Holden Commodore, but McIntyre got a better exit from the downhill sweeper and took a small lead into the final corner. Manuell was quicker and attacked all the way up the hill to the line, but couldn't get past the Blackwoods Paykel Ford Falcon.
The margin was just 0.2 seconds, but that was enough for McIntyre to take V8 SuperTourers' first title ahead of Jonny Reid by just two points. McIntyre finished with 2021, Reid with 2019. It's rarely closer in any racing category in the world.
While all that was being fought out midfield, Scott McLaughlin fought back from another slow getaway to win the third and final race in style - completing a clean sweep of pole positions, wins and fastest laps for MPC Team Supercheap over the Mike Pero 250 weekend. His Turn 1 pass on Greg Murphy oozed confidence and talent and a convenient safety car for debris on the track brought him within reach of Booth, and he passed him in style as well at Turn 2.
Booth looked set to take his maiden win in the V8 SuperTourer category after an electrifying first two laps in the Holden.
But it was not to be. Debris repeatedly brought out safety cars however and on more than one occasion a race-winning lead evaporated.
So, as the chequered flag came down on the final sprint race of the SuperTourer's first season, Scott McLaughlin took first, Andy Booth second, Greg Murphy a lonely third, Jonny Reid fourth, Andrew Heimgartner fifth, Ant Pedersen sixth with Andy Knight, McIntyre, Manuell and Steve Richards rounding out the top ten.

- APNZ