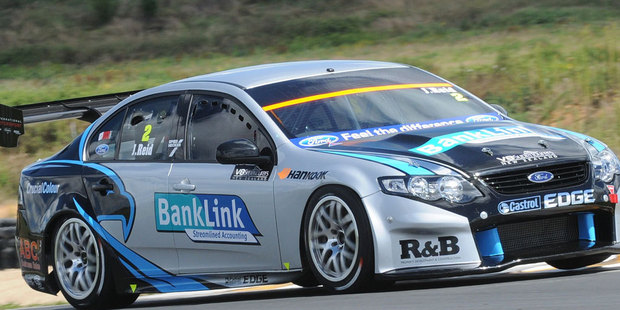 Series points leader Jonny Reid heads into the final sprint round of New Zealand's new V8 SuperTourer series at Hampton Downs this weekend race-fit.
Reid and International Motorsport teammate Ant Pedersen - who lies fifth in the series points standings - have been two of the best performing drivers in the new series, and with Pedersen's cousin Haydn and Porsche drivers Ian Hayr and Wayne Tinker (who are competing in support classes at the event) they are part of a five-strong team entry this weekend.
Former A1GP World Cup of Motorsport race winner and series runner-up Reid has been moving up the V8 SuperTourers NZ leaderboard since the opening round of the series at Hampton Downs in February and finally leap-frogged fellow Ford driver John McIntyre to claim the top spot after a breakthrough round win at the third round at Manfeild in late April.
There, Reid qualified quickest and won two of the three races to head into this weekend's sprint series "final" with an 88-point lead over McIntyre.
Then, the weekend after the Manfeild round, the 28-year-old Aucklander claimed another round victory, this time in Australia's Porsche GT3-based Carrera Cup series.
Since then he has hardly been out of a plane or car, chalking up a further Carrera Cup race win at the most recent round of that series at Phillip Island a fortnight ago, and returning to Australia earlier this week to test the V8 Supercar he will will share with fellow former kart star Michael Patrizi in this year's V8 Supercar series enduro events at Sandown and Bathurst later this year.
Reid said his busy schedule would make a difference this weekend.
"I expect the competition to be very, very tough, there's no question about that, but right now with the racing I've done and the results I've achieved in Australia since Manfeild I am very excited for the weekend ahead," he said.
Having already won a race - the final at the opening round at Hampton Downs back in February - the 23-year-old Pedersen knows he has it in him.
This weekend the V8 SuperTourers will be supported by the V8 Challenge Cup series and the Production Muscle Cars, Japanese Open and Allcomers saloon car classes.
Action at the Hampton Downs circuit begins on Friday with practice and Hot Lap rides with qualifying and the first V8 SuperTourer race (over 20 laps) on Saturday afternoon and two further V8 SuperTourer races (one over 25 laps in the morning and the final over 35 laps in the afternoon) on Sunday.
2012 V8 SuperTourer NZ Series
Points after rnd 3 of 7
1. Jonny Reid 1626
2. John McIntyre 1538
3. Greg Murphy 1264
4. Kayne Scott 1252
5. Ant Pedersen 1240
6. Craig Baird 1153
7. Andy Booth 1038
8. Steven Richards 1030
9. Eddie Bell 883
10. Andy Knight 860
Calendar
2012 V8 SuperTourers NZ Series
Rnd 1 Feb 17-19 Hampton Downs
Rnd 2 April 7-8 Ruapuna Park, Christchurch
Rnd 3 April 27-29 Manfeild Feilding
Rnd 4 June 1-3 Hampton Downs
Rnd 5 September TBA
Rnd 6 October 26-28 Pukekohe Park Raceway
Rnd 7 November 24-25 Ruapuna Park Christchurch
- APNZ