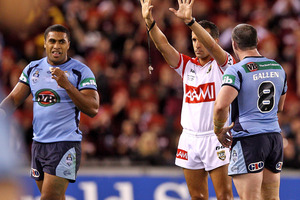 Sin-binned NSW centre Michael Jennings put his hand up post-match and admitted to making a costly mistake by throwing a punch in the Blues' 18-10 game one State of Origin loss, before his media appearance was shut down by team management.
While only a few points separated the teams on the scoreboard, there couldn't have been a greater contrast in the change-rooms post game.
Winners are grinners and Queensland players were all smiles after their victory at Etihad Stadium.
The media flocked to the NSW change-room to hear from centre Jennings, whose first-half sin-binning proved a game-breaker.
Jennings was late into a brawl and threw a punch resulting in 10 minutes on the sidelines, with Darius Boyd scoring in his absence.
More than an hour and a half after the game, Jennings emerged to face the media.
"I know what I did wrong. All I can do now is just move on from here,'' he told a throng of journalists only to be interrupted by team management and told he had to go.
It was much the same story for the other players, who were guided through the media mass to their waiting bus.
"I've got nothing to say,'' snapped lock Greg Bird as he stormed past.
"Just don't say anything,'' whispered Trent Merrin to fellow rookie Jamie Buhrer.
Todd Carney brushed past while James Tamou spent a few seconds before he too was ushered on his way.
Blues' winger Jarryd Hayne, their best back, eventually took pity and answered a couple of questions from the few journalists who remained.
- AAP