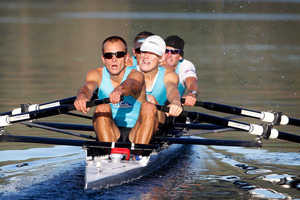 New Zealand's lightweight four and men's eight have both missed out on the Olympics after failing to qualify at the Last Chance Regatta in Lucerne, Switzerland, this morning.
The lightweight four finished third behind the US and the Netherlands, missing out on one of the two qualifying places by just a second-and-a-half.
The men's eight were also knocked out by the US, finishing four seconds behind in second - only the winners qualified for London. It continues a long run of Olympic appearances for the American eight, who have never missed out on racing at the Games, but meant heartbreak for the young Kiwi crew.
Both the four and the eight started well, but could not make an impression on the crews filling the vital qualifying spots.
The four of Duncan Grant, Graham Oberlin Brown, James Lassche and Curtis Rapley came closest, fighting back from fourth at the start to be level with the Netherlands and Serbia with 500m to go.
But their sprint, which had been beaten on both occasions they have needed to use it in races, let them down again and the Netherlands were able to carve out the small, but hugely significant margin.
Serbia were outsprinted, but third place wasn't enough for New Zealand.
New Zealand will have a record 26 rowers on 11 boats at the Olympics.

- APNZ