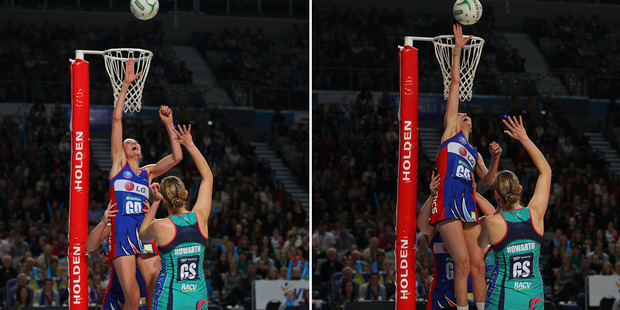 Former Silver Ferns captain Belinda Colling is not entirely convinced netball's lineout-style lifting manoeuvre will prove that successful in the long run.
Northern Mystics goal keep Anna Harrison's acrobatics have been the talk of the sport since the game against the Melbourne Vixens on Saturday.
Former Otago defender Harrison (nee Scarlett) was able to bat away or grab several shots at goal after getting some assistance from her team-mates, who hoisted her in the air to give the former beach volleyball representative the extra elevation she needed.
The "chairlift", as it has been dubbed, proved crucial in the Mystics' 49-45 win over the Vixens in Melbourne.
But the tactic has divided the netball community. Some feel it gives the defenders too much of an advantage and should be outlawed in a similar way to basketball's goal tending rule. In basketball, the ball can be swatted away on its upward path but not its downward trajectory.
Others, Colling included, believe it is a skillful innovation which adds to the spectacle.
"To be honest I didn't see it because I was driving during the match," Colling said.
"But I have seen it practised for a long time. It is innovative and I think it will be interesting to see how teams react to it.
"Quite simply, there is two defenders involved in it so all you have to do as an attacker is pass off.
"And it is a difficult thing to do for a defender. I've seen this being performed and it was practised when I was in the Ferns. So it has taken them this long to actually get it right in a game. It is not quite as easy as you think."
Should teams start grouping defenders under the net and using the tactic with more accuracy, then Colling believes a rule change may be required.
"I would hate to see defenders not defend anything else except stand under the goal posts and lift someone up. If it got to that point, then they would address it."
Dame Lois Muir was very much in the Colling camp. She was impressed by Harrison's athleticism but believes the tactic will only be useful when both shooters are close to the post.
"It couldn't have been anyone else but Anna because she has that marvelous standing jump and great timing," Muir said.
"But it is only useful if both shooters are close to the post. You couldn't do it to Maria Tutaia because she shoots from further out.
"[Sunday] was a prime example of the other shooter standing there with her mouth open. Had she moved aside or been available for the ball, the lifting defender wouldn't have been able to do it because she would have been drawn away."
Dunedin-based international umpire Jono Bredin said as long as the defender did not interfere with the post, net or hoop, then the manoeuvre was within the rules. As for whether the rules will need amending if teams become too adept at it, Bredin said he could not comment.
Steel defender Demelza McCloud had an interesting take on the situation.
"Do you know how gutted I am that that happened in that game when, honestly, right back to under-21s, Mo'onia Gerrard and I used to practise lineouts all the time?" she said.
"At the Thunderbirds we also used to practise getting into a squad position and someone jumping off your quads. But no-one actually had the balls to try it on court."
Now the genie is out of the bottle, McCloud believes other teams will adopt the tactic.
"You've still got to stop the ball getting that close to the posts, so we can't get too wound up in it. But I think any innovation like this is unreal.
"If the shooters play smart they can baulk the shot and wait for the jump to happen and it will become irrelevant.
"But attackers have all the advantages and this is the first time, really, a defender has come up with a tactic which is exciting and different."