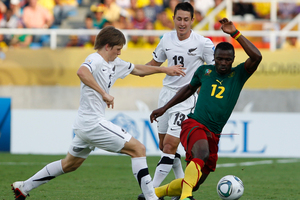 The driving force behind Hamilton's Fifa Under-20 World Cup soccer bid has the money ready if the city wins hosting rights.
The Hamilton 2015 Fundraising Committee has secured more than its share of the $809,000 needed to be a host city for the 2015 event - despite the final decision being four months away.
Waikato/Bay of Plenty Football chairwoman Patsi Davies was confident the city's bid would be successful.
"We would expect to be chosen based on past performance at the Under-17s Women's World Cup in 2008."
This year, the city council agreed to put in a late submission for the Fifa event after being lobbied by a group of business and sports leaders representing the Hamilton 2015 Fundraising Committee.
The council agreed to contribute $409,000 of the host city funding required if the bid committee raised the other $400,000 by May.
The committee has met its target by raising $407,000 through private and corporate donations, as well as a fundraising auction at SkyCity this month.
In a report to the council this week, events and economic development group general manager Sean Murray said it was a "very impressive result".
Councillors had originally voted against bidding for the event because of its tight financial situation, but changed their mind when presented with a more palatable solution.
Hamilton is one of 11 New Zealand cities bidding for rights which will be awarded to six to eight of them.
Fifa officials are travelling to New Zealand between June and July to inspect all the sites - which include Waikato Stadium.
Hamilton Deputy Mayor Gordon Chesterman, the only councillor not to support the proposal, said he was "more relaxed" about the 50/50 business model but maintained international exposure had little economic effect for the city.