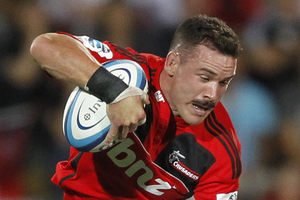 Ryan Crotty outperformed current All Black second-five Ma'a Nonu. Photo / Getty Images
Dylan Cleaver reviews the latest round of the Super 15 which saw the Blues reach another low with their biggest ever defeat to the Crusaders .
The Fab Four
Each week the Armchair Coach looks at the four most impressive teams in the Super 15, with a view to their title chances.

1) Stormers
Won 19-13 v Waratahs • 1st in SAC • 1st overall
There were several moments towards the end of the first half where it felt like it was just a matter of time before the home team blew the Waratahs off the park. It never came, as the beleaguered visitors held tough and gave the Stormers plenty to think about as they contemplate a tough trip to Durban to face a resurgent Sharks side. It is hard to knock a team that keeps winning - especially one with a relatively soft run-in - but the Stormers need to find a sharper edge.
2) Chiefs
Bye • 1st in NZC • 2nd overall
They needed a rest after getting a serious case of the speed wobbles against the previously unimpressive Reds in Brisbane a week previously.
This Friday's clash with the Bulls could only be more important if the G8 were to hold a summit meeting on Waikato Stadium during the halftime break. Both teams need the win, but you'd have to give the well-rested Chiefs the advantage, playing at home against a team on a short turnaround.
3) Brumbies
Won 37-25 v Hurricanes • 1st in AC • 3rd overall
They got a few more favours than needed from the enigmatic Hurricanes, but that was a mighty impressive victory given the unsettling injuries with which the Brumbies have dealt. If they can hold off the fast-finishing Reds in Canberra you can almost hand them the AC title and it would be make it tough for the defending champs to make the top six. If not, the Brumbies will be spending some time looking over their shoulders as they travel to Melbourne, Perth and Sydney.
4) Crusaders
Won 59-12 v Blues • 2nd in NZC • 5th overall
It wasn't a given to lift the Crusaders into this exalted position. Theirs was a clinical dispatching of the Blues - but it was only the Blues. As good as the Crusaders were, the Blues were pathetic and spineless. Nothing against Tom Taylor, but things looked back to their rightful place with Dan Carter at the tiller. Game's best moment: Kieran Read laughing in the stands when Richie McCaw, wearing his No 8 jumper, dropped a clanger.
Back of the week - Ryan Crotty (Crusaders)
He probably hasn't had the opportunities he would have expected this season after Sonny Bill Williams packed up his kitbag and headed north. First a hamstring strain, then some iffy form, followed by a shift for Dan Carter meant Ryan Crotty's season was more stop than start. He set about reminding everybody of his class against the Blues. Opposite him was 66-test veteran Ma'a Nonu. It wasn't even a contest.

Forward of the week - Jarrad Hoeata (Highlanders)
Once Hoeata had showered and splashed on a bit of Old Spice, chances are he would have found himself in front of a telly watching the Blues pretend they were interested in rugby. He would have watched the work of Sam Whitelock and thought, "yeah, fair enough"; he would have watched young Luke Romano with some envy and thought, "decent enough". Once he had found Ali Williams - probably easiest to spot grinning on the bench in the second half - he had every right to shake his head and think, "How, Steve, how?"
The Coach Killer - Mark Hammett (Hurricanes)
Sometimes coaches are their own worst enemy. Take Hammett, whose decision to rest playmaker Beauden Barrett from a must-win match looked like bad sense at the time and even worse sense now. The 21-year-old had enjoyed an excellent season and had just been named to an extended All Blacks training squad, so would have been on a high. Hammett wasn't helped by the loss of Cory Jane, but his team looked lost from the start.
NZ Form XV
15 Ben Smith - Highlanders
14 Siale Piutau - Highlanders
13 Tamati Ellison - Highlanders
12 Ryan Crotty - Crusaders
11 Hosea Gear - Highlanders
10 Daniel Carter - Crusaders
9 Andy Ellis - Crusaders
8 Nasi Manu - Highlanders
7 Matt Todd - Crusaders
6 Adam Thomson - Highlanders
5 Sam Whitelock - Crusaders
4 Jarrad Hoeata - Highlanders
3 Owen Franks - Crusaders
2 Corey Flynn - Crusaders
1 Wyatt Crockett - Crusaders