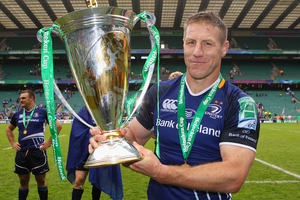 Brad Thorn's latest achievement in winning a Heineken Cup trophy with Irish club Leinster has been labelled "awesome" by All Blacks coach Steve Hansen.
The former All Blacks lock added to his long list of accomplishments by being part of a team that beat Ireland rivals Ulster 42-14 in the final of the European club competition in front of almost 82,000 spectators at Twickenham.
Thorn, 37, can add his winners' medal to a cupboard already bulging with those from the World Cup, a Super Rugby title with the Crusaders and an NRL title with the Brisbane Broncos.
He also played for the Australian Kangaroos league team and State of Origin with Queensland.
He is the first player to win a World Cup, Super Rugby title and a European Cup.
"It proves how bloody good he was and is as a rugby player and as a sportsman," Hansen said. "He is a great athlete who is truly professional and deserves everything he's got. What is he 38, now? We were all well and truly sitting on the couch and drinking a few beers at 38. It's just tremendous what he's achieved."
Thorn doesn't turn 38 until February next year but he is unlikely to mind the rounding up by Hansen, a coach he enjoyed playing under at the All Blacks, Canterbury and the Crusaders.
"It was a real privilege to be part of that," Thorn said. "To be a European champion as well as winning the World Cup is incredible. I would have just been happy with all my NRL stuff and do some cool stuff over there.
"But I have always been a big dreamer. Years ago I never dreamed that what happened in my NRL career would happen.
"Now I just don't believe it again in union. To do and win all I have is amazing."
Thorn was only signed up on a short-term contract by Leinster in March because of an injury crisis and said he had no thoughts of retiring.
"It's not so much about what's going to happen next. It's just about enjoying today and only the Lord knows what will happen in the future. We shall see how it works out.
"Physically I have always been lucky. I feel pretty good."
- APNZ