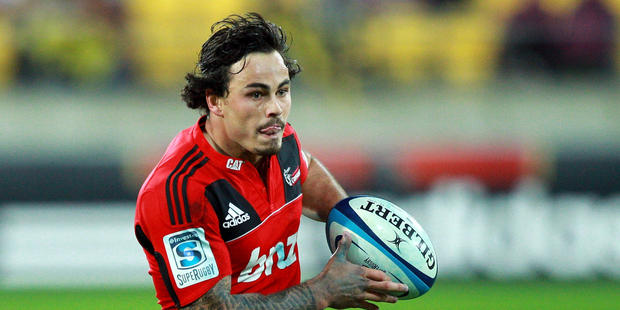 Zac Guildford has had to face up to several challenges recently and his next one could be having to learn a new position.
Hard on the heels of his rehabilitation at the Crusaders from his drunken exploits in Rarotonga late last year has been an examination within the franchise as why the backline has been underperforming. As an attacking weapon and expected to contribute tries, the left wing has been part of that review.
While the Crusaders eased the pressure by thrashing a woeful Blues 59-12 in Christchurch last night, a match in which Guildford scored a try and looked back to his old busy ways. How he applies those skills in the relatively unfamiliar right wing position could be next on the agenda.
Guildford, brought into the All Blacks squad as a replacement for the injured Richard Kahui, could be given the role due to the injury to regular right wing Cory Jane and selection of specialist left wing Julian Savea. As an uncapped 21-year-old, it is unlikely that Savea will be asked to adapt for what could be his debut test against Ireland in Auckland on June 9.
Guildford assembled with the rest of the All Blacks in Auckland today (Sun) and said he would relish the opportunity. The 23-year-old is at his best when roaming the field anyway and coach Steve Hansen isn't concerned about left or right-sided players.
"I've always wondered about that,'' Hansen said. "I don't know if there's any difference really. If you're a winger you're a winger, just put the ball in the other hand. A lot of the guys that we're selecting seem to be putting their hands up on that left wing so we'll have to see how we transfer a couple over to the right.''
Guildford, who has scored four tries for the Crusaders this season, said his rehabilitation could be put down to hard work and support from his family and mental skills coach Gilbert Enoka.
"I knew if I worked hard and kept out of trouble and did the right things on the field then eventually it [selection] would come but I'm very grateful to get the opportunity again,'' he said.
"All the information that I've had is that he's been very good and I would expect him to continue that,'' Hansen added of Guildford's off-field behaviour.
Playing in a Crusaders team which is beginning to look ominous will help Guildford return to the limelight for the right reasons.
The seven-time champions looked a different team to the one which lost to the Rebels in Melbourne a week earlier, with Dan Carter excelling at first-five, kicking six out of eight conversion attempts and attacking the line, and Richie McCaw putting in a superb performance at No8.
"We sat down and had a good look at ourselves as a backs unit and realised we weren't doing our job,'' Guildford said. "We set a few goals. We got a bullet from the coaches as you may have heard so I guess that gave us a bit of extra motivation.''
Perhaps reassuringly for Todd Blackadder and his coaching team, Guildford said the Crusaders weren't getting ahead of themselves after one dominant performance.
"I don't know how much we can take out it. We played well but at times their defence was pretty poor so we'll look to keep our feet on the ground and not let complacency set in like we did the other week against the Rebels.''
Guildford and his Crusaders teammates travelled to Auckland in the same plane this morning (Sunday) but Guildford said there was no awkwardness.
"We had a chat to them last night, they came into our changing room. We see each other all the time so we get used to being on the winning or losing end of the scale.''

- APNZ