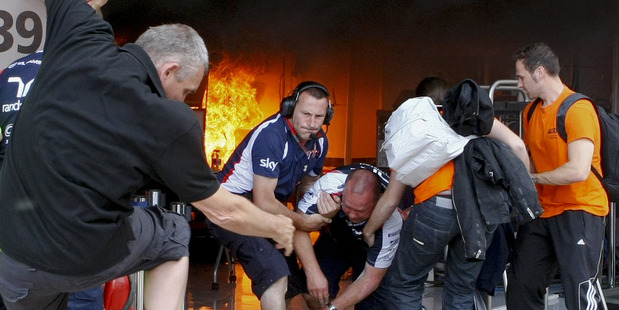 A total of 16 people were injured, one with severe burns, when a fire erupted in the Williams team garage in the aftermath of Pastor Maldonado's victory in the Spanish Grand Prix.
Maldonado's win was his first in Formula One, in just his 24th race, and the first by a Venezuelan.
It was also the team's first victory since the 2004 Brazilian Grand Prix and came on the weekend of team founder Sir Frank Williams' 70th birthday on Saturday.
In a statement, the Catalan regional government said that one person was airlifted to hospital with serious burns while five others were taken to a local hospital for the effects of smoke inhalation.
Ten more were treated at the Circuit de Catalunya medical centre after the incident caused, it was reported, by a fuel fire at the back of the team garage as they were packing up to leave.
The Caterham team said four of their mechanics were among those taken to the circuit medical centre, one with a minor hand injury and three for smoke inhalation.
The fire left a cloud over the team after their first dramatic and emotional victory in eight years, Maldonado driving resolutely to hold off a challenge by two-time champion Fernando Alonso of Ferrari to win the race.
"It's a wonderful day for me and the team. An unforgettable race," said Maldonado, who was hoisted onto the shoulders of Alonso and Kimi Raikkonen, who finished third, when the drivers appeared on the podium.
His win was a great result for Williams, but the team founder was among those whose celebrations were cut short when the wheelchair-bound principal was assisted from the team garage because of the post-race fire.
- AFP