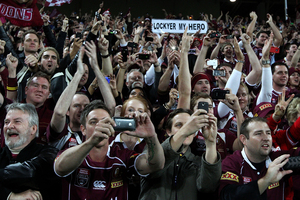 New Zealand league fans may eventually get the opportunity to see a State of Origin game played on these shores - but it won't be in the near future.
And the chances of New Zealand launching its own origin series are in serious doubt with the NRL ruling out the addition of a stand-alone weekend in which the match could be played.
Australian and New Zealand unions are keen to increase the number of significant matches played on this side of the Tasman but the prospects of attracting Queensland and New South Wales in the next few years appear slim.
Equally unlikely is New Zealand launching an equivalent series, potentially played between Auckland and a heartland side.
New Zealand Rugby League boss Jim Doyle said a New Zealand origin series was contingent on the NRL season being extended and a weekend free of club matches being inserted into the calendar.
"Everybody would love it to happen," he said. "State of Origin doesn't give an opportunity to a lot of the NRL stars and, over time, there could be more and more who don't play for New South Wales and Queensland because they have Kiwi heritage.
"It has to be stand-alone weekend [otherwise] clubs wouldn't buy it."
In such a scenario, a State of Origin game could be moved from its traditional mid-week timeslot to form a double header.
Eden Park Trust has in recent years expressed an interest in hosting a match in the annual best-of-three battle between states, but a kick-off time late on Wednesday night has proved inhibiting.
However, NRL commercial and marketing director Paul Kind quashed the idea the match could be moved, with the almighty television dollar again taking precedence.
"Origin's success across the country here in Australia is due in part to the fact that there's no other sport played," he said. "It stands alone on a Wednesday night with nothing else to take the interest of sports fans across the country.
"Any kind of compromise to that wouldn't be considered. If, in fact, somewhere down the track it was considered it would have to be a weeknight and, realistically, it would have to fit with the Australian broadcasters."
Eden Park, which hosted this year's Anzac test, has long been mooted as a potential State of Origin venue, but the idea is yet to move past the preliminary stage.
"There's been informal discussions but there hasn't been a formal discussion with any kind of commercial intent yet," Kind said. "At this point, it's been suggested but it's definitely in the early stages at the moment.
"I wouldn't put a timeline on it but it's not in the short-term horizon."
Eden Park chief executive David Kennedy agreed with that assessment, saying there was definite mutual interest between the two sides but no concrete plans.
"We would be very keen to host a State of Origin event," he said. "Rugby League is very popular in New Zealand and State of Origin games are one of the most viewed sporting events on TV in New Zealand, so there's no shortage of customer base."
That customer base was discussed by New South Wales coach Ricky Stuart earlier this week. Melbourne is set to host its third Origin match in six years later this month, and Stuart said he would prefer the match be played in New Zealand where there was a greater interest in league.
"We want to play more major games in New Zealand - Ricky's right in that respect," Kind said. "I wouldn't qualify Origin at this point, but it's got to be used in the future as an opportunity to grow the game."

- APNZ