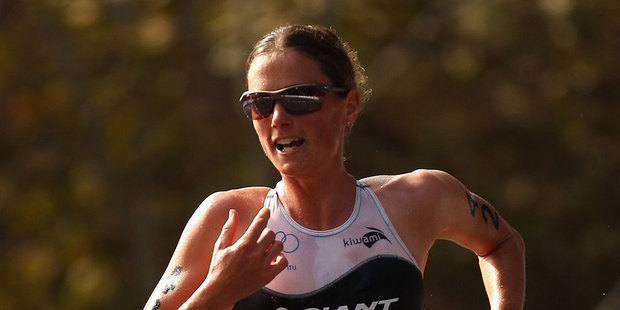 New Zealand triathlete Nicky Samuels has overcome surgery on an abscessed appendix to take the start line in a race potentially pivotal for her Olympics prospects.
Samuels has endured a torrid time since her inclusion in the team for London, but has recovered sufficiently from the surgery to compete in the latest round of the ITU world championship series in San Diego this weekend.
The race carries significance for the New Zealand team, and Samuels in particular, as they attempt to consolidate their position inside the top eight-ranked nations before the Olympics.
Those nations receive three spots on the start line in London, so the seven New Zealanders competing in San Diego will be desperate to ensure they earn enough points to keep their country safely ensconced in the top eight.
That especially holds true for Samuels. As the third woman in New Zealand's Olympic team, behind Andrew Hewitt and Kate McIlroy, it is Samuels' spot which would vanish should New Zealand slip outside the top eight before the cut off for the qualification period on June 8.
Samuels understands the importance of the race, which is why she put health problems behind her to compete alongside Debbie Tanner in the women's field.
"Originally, I was looking for a good result in San Diego to keep my points up to make sure we get that third spot for the Olympics," Samuels said. "But the night after the Olympic announcement in Auckland, my plans changed.
"I had a problem with my stomach again and, two days later when I was back in Wanaka, I visited the doctor and ended up in the emergency department in Dunedin that night. The next morning I was in surgery getting my abscessed appendix out."
Less than three weeks later she is lining up in San Diego. Samuels wasn't expecting miracles during the race, given the amount of training she had to miss, but she was aiming to get her fitness up before the next world championship race in Madrid.
"I am not sure how this race will go with so much time in hospital and recovering at home, but I can only give it what my best. Following this race I head straight to Europe where I will stay in Sete (southern France) until the Madrid world series race."
In the men's field, Olympians Bevan Docherty, Kris Gemmell and Ryan Sissons are joined by Clark Ellice and Tony Dodds on the start line for New Zealand.
"I'm looking forward to San Diego this weekend," said Sissons, in the same position of Samuels.
"Another good result for the team will go some way towards confirming the three spots for New Zealand at London - this is our big goal."

- APNZ