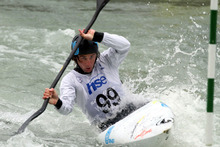 Top New Zealand canoe slalom paddlers Mike Dawson and Luuka Jones have had a sneak preview of the Lee Valley whitewater course ahead of the London Olympics.
The Tauranga pair, who have already qualified for London, were invited to compete as fore-runners in the Great Britain Olympic trials, kick-starting a three-week training block on the purpose-built artificial course.
"The course has changed a bit from when we were last here racing in October but there are still heaps of holes and stoppers to knock you off-line and into the poles," Dawson said. "The configuration of the course means there is a lot going on as you try and get through the gates. You can get thrown around a bunch and it's really easy to take a lot of water over the boat. I love paddling here but it's really physical - after 10 days of hard training, my arms feel like lead and my body feels like it's falling apart."
Jones, who also competed at the 2008 Beijing Olympics, is happy with the way her training is going, though she admits the build-up to London is proving mildly distracting.
"With less than 85 days to go until the Games, the venue is on lock down, with only accredited athletes and officials allowed entry," Jones said. "The grandstands are being erected around the outside of the course and temporary buildings being put up - it was exciting to see them and it enforced how close the Games actually are."
Both Kiwis took a break from their London sessions to compete in the Slovak Cup over the weekend, on the same course they qualified on at last year's world championships.
"There were definitely some good memories here and a strong sense of nostalgia although we had to adjust quickly to the different feel of the water compared with London," Jones said. "The idea was to get another race under my belt as you can't replicate that 'start-line feeling' in training and it is always a great indication of how training is going."
With a field including reigning world champion, Austrian Corinna Kuhnle, and Slovakian Jana Dukatova, Jones was delighted with a fourth placing on the first day and a sixth on the second day, while Dawson finished fifth and fourth respectively.
"I raced well and was pleased with where I was at in this phase of the year," Jones said. "I'm heading back to London super confident and fired up."
Jones has another week on the Olympic course, before heading for her base in Nottingham, while Dawson will stay in Slovakia for a further three weeks of training.
Jones is the first New Zealand woman to compete in canoe slalom at Olympic level, while Dawson is just the third Kiwi male, after Donald Johnstone in 1992 and Owen Hughes in 1996.

- APNZ