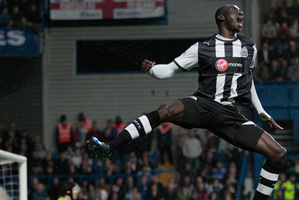 There is only one set of games left in this Premier League season of restorative excitement. English soccer has been shown up in Europe, unfortunately, but for the 369-game body of the season, the thrills and entertainment have been better than they have been for quite some time. A new shade to the title race, some daring attacking soccer and a quantity and quality of goals far outstripping what we had grown used to.
The title race
Titles races are not often as rich as this. To have the two competing teams play each other in the final weeks of the season, in an effective playoff for the trophy, is a rare treat. Then there is the local rivalry between the top two, a relative rarity, not seen since Arsenal and Chelsea's duels almost 10 years ago. And, of course, the fickle nature of it: City were five points clear in December, United eight ahead at Easter, and now City lead on goal difference. There might be a complaint over quality; these are not two all-time best teams, but for drama it has been one of the very best.
The race for fourth
In a sense it is a shame that "the race for third and fourth" is so important, but it is, and this has been a good one. The two established names of Chelsea and Arsenal have had poor league seasons, and until Sunday afternoon looked as if they might be outflanked by exciting Tottenham Hotspur and Newcastle United sides. Spurs were the form team of the autumn, but faded, while Newcastle started well, dipped, then came back. Trying to squeeze four teams into two places will always be exciting, and so it has proved, with the places still competitive.
Centre-forwards
No one would argue that the world's best players play in England. But we have been treated to arguably the three finest centre-forwards in Europe. Robin van Persie, having conquered injuries, has been brilliant all season. He has scored 30 goals, dragging Arsenal back to competence, winning games on his own. Wayne Rooney, who has 26, has done almost as well for United, keeping a fairly flat team in the title race. Sergio Aguero has better teammates, but his return of 22, for a debut Premier League season, is quite something. Once settled he could outscore the others next season.
Goals
The quality of competition is so good it feels churlish to choose some goals over others. And the range has been so broad that it caters for all preferences. There have been audacious volleys from distance by Peter Crouch and Papiss Cisse, which shocked Manchester City and Chelsea respectively. There was a perfect 40m chip from Liverpool's Luis Suarez at Carrow Road. For technical perfection, Van Persie's first-time strikes out of the sky against Everton and Liverpool were very special. And for those who enjoy build-up, Hatem Ben Arfa's runs before his Blackburn and Bolton goals are just as mesmerising to the fan as they were to the defences.
Big games
The time of the grinding tactical chess match is over. This season, games between the top sides have not been characterised by caution, containment and swamped midfields but the opposite. No more mutual respect: big teams have attacked other big teams, and the results have been thrilling. Manchester United mauled Arsenal 8-2 at Old Trafford, before losing 6-1 there to Manchester City, creating a goal difference deficit which still haunts them. City also won 5-1 at Tottenham, while Arsenal won 5-3 at Chelsea, and overturned a two-goal deficit to beat Spurs 5-2, redirecting both of their seasons. It could be an outlier, but it has certainly been fun.
Relegation battle
Having two relegation berths still gaping in the penultimate weekend is a good sign. Too many teams this season have been bad enough to go down, and so some will inevitably stay up by default. While Wolverhampton Wanderers have fallen away since Mick McCarthy's dismissal, the rest have kept their heads near the surface. Wigan Athletic's stirring burst of form has them safe, while Queen's Park Rangers' run of home wins has kept them competitive. Blackburn looked down, then safe, but are now down again, while Bolton have also surged and then faded.
- Independent