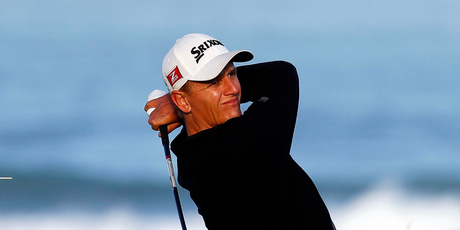 Auckland amateur Fraser Wilkin beat clubmate Ryan Fox by three shots to claim the Muriwai Open and his maiden title on the Charles Tour today.
The 24-year-old, who held a two-shot lead on the 18th tee, delivered the grandstand finish with a perfect shot to within 30cm of the hole to card a four-under 68 and seal the win.
About an hour earlier on the 18th, world No 1 Lydia Ko underlined her class with a 5m birdie putt to break her course record at the West Auckland links by two shots with a seven under 65 and defend her title by an incredible 17 shots.
But it was the battle between good mates Wilkin and Fox that attracted the biggest gallery in the warm conditions.
Wilkin, who thought he held only a one shot lead, walked up the18th acknowledging the applause by waving his cap to the crowd on the banks to celebrate the biggest win of his amateur career.
"This is pretty exciting for me," said an emotional Wilkin afterwards.
"Today was a bit of a blur. It hasn't really sunk in yet. It is a really good step forward for me and where I want to be if I want to turn professional at the end of the year to start playing for money. To know that I am there or thereabouts is pretty pleasing."
Wilkin joins an elite club of amateurs to win on the Charles Tour that includes Josh Geary, Troy Ropiha, Ben Campbell and Josh Munn.
Fox, who finished runner-up in a Charles Tour event for the second successive time in 2012 and third overall, was naturally disappointed but paid credit to Wilkin.
"Fraser's one of my best mates and as much as I like winning, if anyone else was going to win, he was the guy I was pulling for. It was great to see him win and the way he did it was very impressive - he went out and won it. He finished it off really well."
Wilkin was quick to joke: "He's already reminded me about three times that he is the one taking the money so I hope he buys me a beer after this."
Auckland amateur Sam An shot a three-under 69 in the final round to claim third place, Waikato professional Brad Shilton matched that to place fourth and defending champion Joshua Munn faded with a two-over 74 to finish fifth.
Earlier in the day, Ko blitzed the women's field by 17 shots with a course record seven-under 65 despite blustery conditions.
The 15-year-old from the North Shore Golf Club got off to a fast start with a birdie at the second hole, an eagle at the sixth and consecutive birdies on seven and eight to be five under through eight holes.
The birdies dried up until the famous 18th, where her ball fed off the back slope of the green to set up a birdie chance from 5m.
Ko calmly stepped up and drained the putt across the slope to break the course record she set in round one by two shots.
She will play the upcoming North Shore 54 Hole Classic as she prepares to make her major debut at the US Open in early July.
apnz dr cr
- APNZ