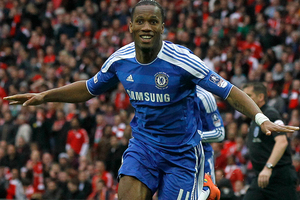 Didier Drogba admits his historic strike in Chelsea's 2-1 FA Cup final win over Liverpool was exactly the kind of memorable moment that makes life with the Blues so special.
Drogba became the first player to score in four FA Cup finals when he drove a fine low strike past Liverpool goalkeeper Jose Reina early in the second half at Wembley this morning.
The Ivory Coast striker has now scored eight goals in eight appearances at the rebuilt English national stadium and the victory against Liverpool was his fourth FA Cup triumph with the west London club.
It is a remarkable record and former Marseille star Drogba, who could be set to leave Chelsea when his contract expires at the end of the season, was delighted to make a major impact on the big occasion one more time.
"That's the reason why I came here, to win trophies and to make history with the club. It's a great feeling," Drogba said.
"I'm always surprised to score here. As I always said, my last goal is the most beautiful one and this one is the most beautiful because the feeling is ... I don't know how to explain. I just appreciate the cup and cheering with the fans."
While Drogba has proved adept at stealing the spotlight on the game's grandest stages, he was quick to give plenty of credit to his teammates, especially Frank Lampard, who not for the first time provided a perfect pass for the goal.
"I'm very proud. I'm very proud of it, but I have to give credit to all my teammates," Drogba said.
"During the last six years, I've been playing here all the finals, I'm really happy and I really want to thank them because they always put me in the best conditions to score goals.
"We made history, not only me. The result is great for us, for the fans, for the club.
"Our fourth FA Cup final, fourth win, fourth trophy, so I'm happy. That's why we play football, to play finals."
Drogba's strike, which put Chelsea 2-0 up, proved the difference after Ramires opened the scoring for the Blues before Andy Carroll reduced the deficit for Liverpool.
The previous FA Cup triumphs against Manchester United, Everton and Portsmouth all remain sweet memories for Drogba, but this was especially rewarding after such a difficult campaign.
Drogba was one of those who looked set to be eased out before Roberto Di Matteo replaced sacked manager Andre Villas-Boas two months ago.
"Yeah, we had a few difficult times," he said.
"Roberto has been talking to the players a lot, trying to bring the confidence back. We help him as well because it's not easy for him.
"He was a good friend with Andre, so it was also difficult for him.
"I think all together we made this. And, if we are here, it's because everybody did a little bit more than what we did in the first part of the season."
-AAP