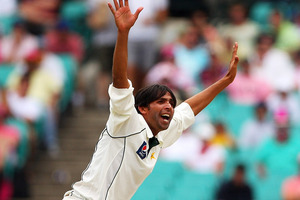 The father of disgraced Pakistan cricketer Mohammad Asif said his son's release from prison yesterday had brought an end to six months of pain for his family and backed the paceman to return to the game.
Asif, 29, was freed from jail in Britain after serving half of a 12-month sentence over a spot-fixing scandal and was taken by his friend Mohammad Haroon to his house in suburban London.
"Asif was very happy at his release and his first words were 'thanks Almighty'," Haroon, a cricket coach and Asif's mentor, said.
Asif was jailed in November after being found guilty of conspiring to cheat and conspiring to accept corrupt payments over deliberate no-balls bowled during the Lord's Test against England in August 2010.
In the Pakistani village of Machikay, 40km from Lahore, Asif's family voiced relief at his release.
"I have spent these six months in pain but I am sure that it's over now," his father Hasan Deen, a farmer, said. "I have not talked to him for seven months but I am happy that his difficult days are over."
Pakistan's captain for the infamous Lord's Test, Salman Butt, is still serving a 30-month term and bowler Mohammad Aamer was released in February this year after completing half of his six months in a youth prison.
All three were banned by the International Cricket Council for violating the players' code of conduct.
Asif's lawyer Ravi Sukul said Asif had begun an appeal against his criminal conviction and will soon proceed with an appeal against his seven-year ICC ban in the Swiss-based Court of Arbitration for Sport.
- AAP