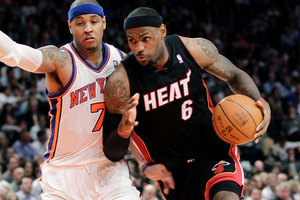 LeBron James scored 17 of his 32 points in the fourth quarter today as the Miami Heat defeated New York 87-70 to take a commanding 3-0 lead over the Knicks in their NBA Eastern Conference first-round playoff series.
James scored eight straight points to start the fourth and Miami's first 11 points of the period as the Heat pulled away from the injury depleted Knicks.
The Heat, seeded second in the Eastern Conference behind the Chicago Bulls, will try to complete the sweep of the best-of-seven series on Sunday at Madison Square Garden.
New York, their backs against the wall, led by four points at half-time, but were out-scored 51-30 in the second half.
Dwyane Wade added 20 points and Mario Chalmers chipped in 19 on 5-of-8 shooting from three-point range for Miami.
Chris Bosh, who returned to Florida from New York on Wednesday to be with his wife as their first child was born, returned to New York shortly before the game and scored 9 points with 10 rebounds.
Carmelo Anthony led the Knicks with 22 points and eight rebounds while Tyson Chandler, named this week as the NBA's Defensive Player of the Year, recorded a "double-double" with 10 points and 15 rebounds for the Knicks.
However, New York shot just 31.9 per cent from the field and suffered an NBA record 13th consecutive playoff defeat.
The Knicks were without power forward Amare Stoudemire, who lacerated his left hand after punching the glass case of a fire-extinguisher in frustration after New York dropped game two of the series in Miami.
The Knicks were already without point guard Jeremy Lin, sidelined by knee surgery late in the regular season, and lost rookie Iman Shumpert to a torn knee ligament in a 33-point blowout loss in game one of this series.
Stoudemire was listed as doubtful for the do-or-die game four on Sunday, but has said he hopes to play.
Two Eastern Conference contests are on Friday's slate, as the Philadelphia 76ers host the Chicago Bulls and the Boston Celtics host the Atlanta Hawks.
Both of those series are knotted at one game apiece.
-AAP