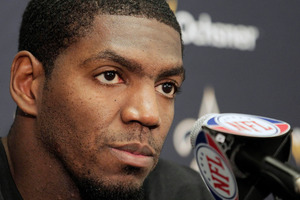 New Orleans Saints linebacker Jonathan Vilma has been suspended for an entire NFL season, one of four players sanctioned yesterday for taking part in the bounty scheme that paid players for hits on opponents.
Vilma, said to have offered US$10,000 ($12,400) in cash to any player who knocked Arizona quarterback Kurt Warner out of a 2009 divisional playoff game, received the stiffest penalty meted out to a player.
Defensive lineman Anthony Hargrove, now with Green Bay, was suspended for eight games, defensive end Will Smith was banned for four games and linebacker Scott Fujita, now with Cleveland, was suspended for the first three games of the 2012 season.
All of the suspensions are without pay and stem from the bounty system that the NFL found was run from 2009-11 by former Saints defensive co-ordinator Gregg Williams.
Williams was suspended indefinitely by NFL commissioner Roger Goodell in March.
Saints head coach Sean Payton was suspended for a year for failing to halt the programme. Similar to Payton's ban, Vilma's season-long suspension was to begin immediately.
The other three players can participate in off-season training with their teams and in pre-season games before serving their regular-season suspensions.
The players are expected to appeal, and must do so within three days.
"It is the obligation of everyone, including the players on the field, to ensure that rules designed to promote player safety, fair play, and the integrity of the game are adhered to and effectively and consistently enforced," Goodell said.
The NFL said its investigators discovered evidence that conclusively demonstrated that from 2009-11 Saints players, of their own accord, pledged significant amounts of their own money toward bounties, that players accepted payments for "cart-offs" and "knockouts" of injured opposing players, and that the payout amounts doubled and tripled for the playoff games.
Goodell said the four players sanctioned yesterday were not the only ones to take part, but that they participated at a more significant level.
Goodell also sent the NFL Players Association a list of participating players that were not disciplined.
The initial penalties for the team and coaches were handed down on March 21.
Along with Payton and Williams, general manager Mickey Loomis was suspended for the first eight games of the season and assistant head coach Joe Vitt was suspended for six games.
Once he returns, Vitt will serve as interim head coach in place of Payton, the team has said.
- AFP