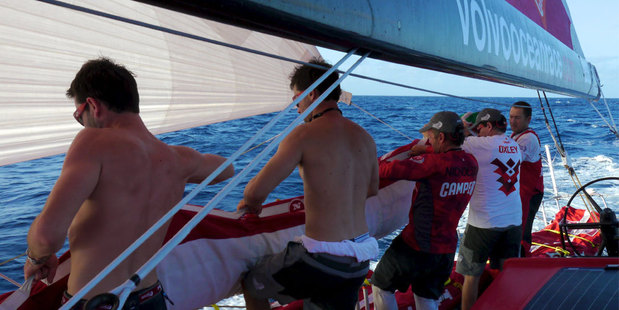 There's a growing belief line honours in the sixth leg of the Volvo Ocean Race could come down to the final 100 miles - and the top three boats in the fleet did little to dispel that theory in another day of tight racing.
Puma hold a narrow 2.2 nautical mile lead over Camper who are only 2.8 miles in front of Telefonica in third with 2160 miles to sail to the next pit stop in Miami. Both Abu Dhabi and Groupama made up significant ground over the past 24 hours but are still 84 and 89 miles behind Puma respectively.
The fleet have now passed the Doldrums for the fourth and final time in the race. Significant gains and losses were made in the difficult conditions and Puma saw their lead sliced by about 30 miles in 24 hours as Camper and Telefonica navigated their way through squalls and rain clouds.
"At one point it seemed like Camper were about a mile-and-a-half away," Puma skipper Ken Read said.
"I don't know if they were really that close but their light was awful bright right next to us. That was our 30-mile advantage gone. That gives you an idea of how tight it is and how big the yo-yo swings are."
A tropical wave in the North Atlantic is set to disrupt the trade winds creating further unstable weather for the fleet in coming days but confidence is building on board Camper, who notched up an impressive 433 miles in 24 hours in the Doldrums.
"We did some good work in the Doldrums and managed to put some miles on Telefonica and pull in Puma - there's nothing in it now," skipper Chris Nicholson said. "It has been interesting as we spent most of the day within one mile of Telefonica with each boat probing the other with different modes of sailing. Both boats have shown strengths and weaknesses and are proving to be very close in these conditions.
"Now we just need to carry on our good work into the trades and ensure that we maximise our boat speed and do what we can to get in front before the messy stuff toward the finish. This match race is going to continue for some time."
The Volvo Ocean Race has seen some incredibly close racing, not least of all the finish into Auckland that saw just 92 seconds separate Telefonica and Camper in the battle for third after 9667km or racing.
Camper need a strong finish to lift themselves up the table and they would jump ahead of Groupama in second if the present positions were maintained. The leading boats in the fleet are expected to cross the finish line in Miami on May 9.

- APNZ