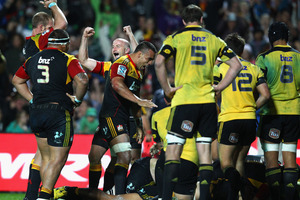 Rugby coaches love forwards who "do the hard yards". Think Brad Thorn, Reuben Thorne and Alan Whetton, men whose work off the ball was vital for their teams' success.
Those players and their exploits often go unnoticed by the public who are smitten by the flashy finishing of the backs or the athletic support play of other forwards.
But the men wearing new-model tight jerseys with Nos 1-8 across their backs are all in the sights of Chiefs forward tutor Tom Coventry, who demands plenty of work from his pack.
"It's not so much what they do with the ball, it's what they do without it," he said.
Coventry has been drilling his men about their core duties in the scrum and lineout, their requirements at ruck and maul and what he expects from them away from their foundation football chores. He notes what they are doing away from the action.
The rest of us watch the ball or follow where the television camera takes us. More often than not that zeroes in on the pig bladder and who is doing what with that.
So for much of the absorbing action in the Chiefs match with the Hurricanes our focus was on Aaron Cruden and Beauden Barrett, two of the gifted young five-eighths who are pushing their way into prominence in this year's Super 15. Barrett was squeezed because his pack was often being shunted but he does deliver real promise and tactical acumen.
He will be tested by teams who launch looseforwards or midfield backs into his defensive path but there are not many five-eighths with the tackling certainty of Daniel Carter or James O'Connor.
For a first-season player, Barrett has played with the sort of aplomb the Blues have yearned for. He sees the field, his speed, passing and tactical kicking are real weapons which means defenders cannot shift away from his lane.
His Hurricanes predecessor has made the switch to the Chiefs and if anything has taken his game - and that of the series leaders - to another level. The franchise's former faithful five-eighths Stephen Donald was a strong component of the side, but Cruden brings a different set of skills to garnish the work of his forwards.
For a bloke who is lighter and smaller than Barrett, Cruden offers a decent wallop and it was unusual to see him miss a tackle on the Hurricanes' will o' the wisp fullback Andre Taylor. It was about Cruden's only blemish on a night when he led his side around Waikato Stadium with great certainty.
Strange, though, that while the Chiefs got a fair whack of possession, we saw little of Sonny Bill Williams and Richard Kahui from setplay. They had their moments when play loosened up but figured sparsely in set moves.
Williams was used often as a decoy but when he did get possession in broken play, his ball carry was in great contrast to Cruden.
Cruden holds the ball out in front of him when he runs, his hands cradling it to confuse defenders whether he is going to pass left, right, dummy or drop it on to his boot.
His feet dance around in space while his tactical kicking has got longer and sharper along with his goalkicking.
Meanwhile, SBW continues to defy coaching convention to carry the ball in one claw. He is a rare player who succeeds with the tactic. Even when defenders lower him he is able to offload to his teammates.
There are mishaps. In wet conditions in Durban the week before, Williams' one-handed carry was a disaster as he lost the ball regularly in contact. In dry conditions his single-hand, round-the-corner delivery or backhand flip are great weapons to confuse defenders. Someone just needs to make sure his mind is in sync with the weather.