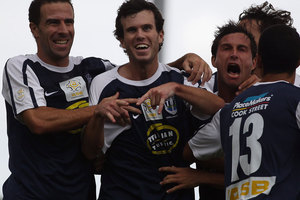 It was one of those games in which both teams left the field happy.
Auckland City were pleased to take the 2-1 win in the first leg of the O-League final and visiting AS Tefana were content to be so close and having claimed what might prove to be a vital away goal when the teams play the return leg in Papeete in a fortnight.
For long periods, particularly in the first half, this was a game heading nowhere. There was scrappy play from both teams with too many misdirected passes and only a couple of even half chances.
City forced eight first-half corners and 11 in total but never asked a question of the solid Tefana defence.
The best chance of the half came a minute into stoppage time when Adam Dickinson, surprisingly substituted in the second half, ran strongly before slipping the ball to Manel Exposito, but his shot was straight at goalkeeper Leonce Roometua.
The deadlock was broken 11 minutes into the second half when Dickinson again played a good ball in. Daniel Koprivcic had a shot which was blocked but the ball fell to David Mulligan for a simple tap in.
Three minutes later captain Ivan Vicelich nodded on to Koprivcic who provided the finishing touch. Cruising at 2-0 with an hour gone, City were in control until a strong counter-attack from the visitors caught them out and, with a deft effort from outside the penalty area, substitute Axel Williams chipped the ball into City's gaping goal.
In the end seven players finished up in referee John Saohu's book as both teams turned their attention to the return and the US$500,000 carrot dangling in front of the winners in representing Oceania at the Fifa Club World Cup in Japan.
While happy with the victory, City coach Ramon Tribulietx was not overjoyed at giving up that goal.
"Tefana are a good team but we failed to put away our scoring opportunities. They had one and took it. I haven't had a look at it but it could have been offside," said Tribulietx.
"We knew not conceding was important but that was one out of the blue."
Of the challenge in playing the return on an artificial surface, Tribulietx said he was not too concerned.
"It's a bigger pitch than here at Kiwitea St and we will be going over there and trying to win it."
He is aware though that a 1-0 win for Tefana would clinch the tie for the Tahitians.