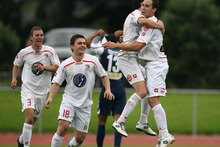 Waitakere United has won the ASB Football Premiership with a 4-1 win over Team Wellington in Henderson.
Roy Krishna broke the deadlock in the stoppage time of the first half to give the home side a one-nil lead at the break.
Allan Pearce extended the lead in the 77th minute, before Jake Butler made it 3-nil in the 84th.
Team Wellington got on the board late, with a Henry Fa' arodo goal coming five minutes before the end of regulation time, before Krishna nailed his second goal for Waitakere.