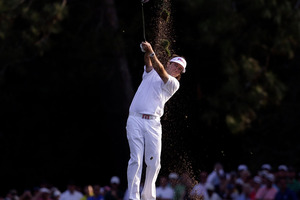 Reigning Masters champion Bubba Watson hooked a tee shot that struck a spectator in the back of the head today during the second round at the PGA Zurich Classic.
Watson, who won his first major title earlier this month at Augusta National by beating 2010 British Open champion Louis Oosthuizen of South Africa in a playoff, is defending his 2011 crown at this week's US$6.4 million event.
On the second hole, Watson smacked his drive off target and into the head of 52-year-old Radd Leonard, a motorcycle shop owner from nearby Baton Rouge who came to the tournament to see Watson in his first post-Masters tournament.
Leonard was happy that he was able to help Watson, whose ball bounced back into the fairway after striking the spectator.
"I saw it coming and it looked like it was hooking right at me," Leonard said. "I wanted to see that big hook and I got to see it. I turned and ducked and it still hit me."
Watson shook Leonard's hand and presented him with an autographed golf glove as a souvenir.
Medics came to Leonard's aid but he said he was not seriously harmed.
- AAP