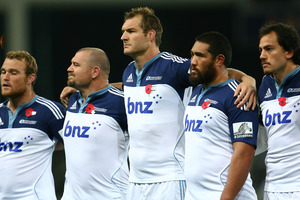 Having grown up in Auckland's golden time - when international teams were the underdogs when they played at Eden Park - I can't help but wonder why, with the dominant forward pack the Blues have, they are not playing more like the Highlanders. Shouldn't the Blues be drawing the forwards in and allowing more space for the backs?
There doesn't seem to be any structure, with releasing the ball to the backs willy-nilly.
Regards, Brett S Ansley
Brett, I can assure you there is a structure to how Pat Lam wants his team to play, but unfortunately (mainly through some individual mistakes) they haven't been able to sustain pressure for long enough periods in a game to implement his plan. You are right in saying they have a dominant pack based on a powerful scrum, and from this I would like to see them play the opening period of a match focusing on territory and then force the opposition through a solid kick-chase and defensive pressure into multiple scrums from which eventually penalties will come. Once a lead is established then maybe the razzle dazzle can come out.
Ian,
Do you think the Hurricanes can make the playoffs this season? And is their form this season surprising you as it has many of us?
George
George, I have to say their form isn't surprising me because I backed the coaches to make the decision they did last year. And I knew that with the appointment of Conrad Smith as captain and with the hard-nosed attitude of Mark Hammett this team would be fully focussed and competitive. I am really pleased with the outcome.
But can they make the playoffs? I don't think so. To do that they would have to finish at least third in the NZ conference and with five of their remaining eight games against Kiwi opposition I can't see them getting the required points.
Hi Kamo,
Hypothetically speaking. In the Rugby World Cup just gone, if there was somehow another game after the final (ie, was the final was a semifinal), and we were onto Steven Donald as our starting first five-eighths, who would you think Graham Henry would have called in to be cover for Donald?
And another first five issue:
Why is Gareth Anscombe not being considered for All Black first five-eighths? He has shown even this early he is a class player.
Kind regards, Jordan Palmer
The way Steven Donald was going during October of last year Jordan you get the feeling nothing would have stopped him from being the nation's hero, but if he did have to have a back up, remembering we are now looking for New Zealand's fifth ranked first five-eighths, then I think Sir Graham Henry would have turned to Piri Weepu.
On Gareth Anscombe, we need to remember this is a 21-year-old kid in his first season of Super 15 who doesn't need the added burden of being an All Black contender. My advice to all young players is keep producing consistent quality performances, step up in the key moments and your time will come.