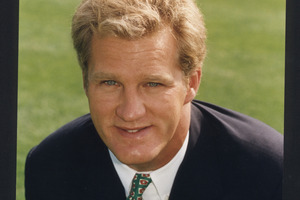 Queensland rugby has confirmed Wallabies great Michael Lynagh has suffered a stroke.
The 1991 World Cup-winning first five has been admitted to Royal Brisbane Hospital this week, following a long haul flight from his home in the UK.
While there was initial confusion around what his ailment was, Lynagh, 48, remains in a stabilised condition with doctors undergoing tests to find out the cause.
Former Australian captain Andrew Slack told the Sydney Morning Herald doctors were still accessing his former teammate's condition.
"Clearly he's got some physical issues from it, blurred vision and stuff but I'm led to believe he got up and went to the toilet at one stage," he said.
"So there's not a lot known but he's stayed very fit since retiring some years ago and I think it's a bolt out of the blue, there's no question about that."
Lynagh represented Australia in 72 tests from 1984 to 1995. He retired from international rugby after Australia's quarter final defeat to England in the 1995 Rugby World Cup.
The Queenslander scored 911 test points for his country, and 1166 for his state.