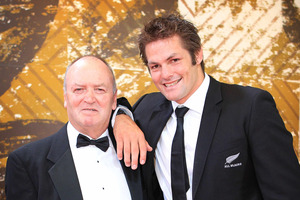 Former All Black coach Graham Henry has offered to help Richie McCaw find a girlfriend after the Rugby World Cup-winning captain admitted he was single today.
Henry hosted an hour-long show on Radio Live this afternoon during which he interviewed McCaw and took questions from the public.
When asked by Henry who the lucky lady in his life was, McCaw said "There's actually none at the moment. I'm still on the lookout."
Henry suggested he put out an advert, to which McCaw responded "Sounds good Ted, you can vet them all."
Henry said he was missing McCaw and the rest of the "young fellas" in the team.
"I still feel young until I look in the mirror," he said.
McCaw left his old coach with something Jimmy Cowan says: "Growing old is inevitable, growing up is optional."
Henry then went on to take calls from listeners on topics ranging from the Blues to the Breakers.
About the Rugby World Cup final, he said the win had brought great feelings of peace and relief.
"We went through a bit of pain.
"I felt very relieved for my lovely wife Raewyn and my kids because they went through a lot of pain in 2007."
When asked about the Blues' current losing streak, he defended the team's performance, saying he didn't think they had played particularly badly in the last game.
"When you're losing five or six in a row, everyone's trying so hard they lose their fluency.
"It's not a problem with people not trying, but a problem with people trying too hard."
He went on to speak about the team's racial controversy and criticism of coach Pat Lam, saying there is a silent majority who are supportive of Lam.
"Quite frankly I ignore the faceless minority.
"The faceless minority is a disappointment for me."
Moving away from rugby, Henry complimented the Breakers on their performance of late, saying they had a "great culture".
He also expressed his overall confidence in the basketball team.
"I think it's going to be a much harder task than Perth, I feel for sure they're going to win this thing ... it's just a matter of when."