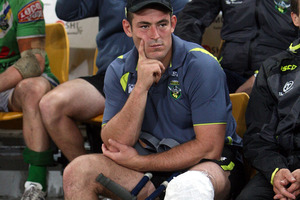 Canberra skipper Terry Campese's shocking run with injury has continued with the Raiders five-eighth to miss the remainder of the 2012 NRL season due to a knee injury.
The 27-year-old will undergo a knee reconstruction for the second time in less than two years after damaging his knee in last Friday's loss to Brisbane.
Scans earlier in the week had indicated Campese only injured his medial meniscus - a relatively minor injury - but surgery revealed a rupture to his anterior cruciate ligament.
Campese was limited to just a few minutes of action in 2011 after recovering from knee surgery in late 2010, his comeback aborted last year when he suffered an injury to a groin muscle.
"I've had the chance to sit down with Terry last night and he's shattered with the news," Raiders chief executive Don Furner said in a statement.
"This type of injury has a 10-15 per cent chance of re-occurring and unfortunately requires an extensive recovery period, which he has already recently been through.
Furner said the club had considered LARS surgery - which requires a much shorter rehabilitation - but erred on the side of caution by going with the traditional ACL surgery.
-AAP