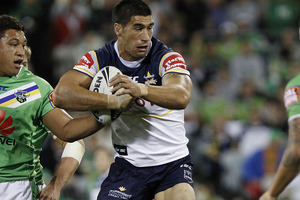 Newly appointed Australian captain Cameron Smith expects New Zealand to target Kangaroos debutant James Tamou over his decision to turn his back on the Kiwis.
Tamou, who was born in Palmerston North, New Zealand but moved to Australia at the age of 13, formally made the decision to choose Australia and NSW over the Kiwis last week - a decision Smith admitted was sure to anger those across the Tasman.
"There's going to be a fair bit of criticism, he's well aware of that," Smith said on Monday.
"I think he knew that when he made the decision to make himself eligible for State of Origin, therefore making him eligible to be picked for Australia.
"... I think he's fully aware of the criticism that will come his way, particularly from out of New Zealand. Young guys relish the challenge these days."
And like Karmichael Hunt, who was born in New Zealand but chose to represent Queensland and the Kangaroos after moving to Australia at a young age, and Rangi Chase, who last year debuted for England, have experienced in the past, Smith says Tamou should expect to feel the brunt of the fearsome Kiwi pack.
"I guess looking from the outside, you could say they might (target him)," Smith said.
But if that is their tactic, the Melbourne skipper says it could backfire.
"At the end of the day there's 16 other very capable players in our team," he said.
"If they want to try and target one bloke they're going to get found out on other parts of the field."
But one thing is certain - the workaholic hooker is delighted to have the 194cm, 113kg Tamou lining up alongside him for Friday's Test.
"Absolutely, he's a big man and he's an aggressive man," Smith said.
"He's quite versatile for a big man. he's got great skill. Hopefully he adds a lot more to our team.
"...He's a confident young bloke. If you watch any of the Cowboys footy games, that's the way he plays his footy."

-AAP