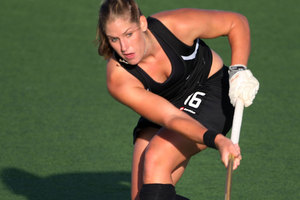 In another all-Oceania affair, New Zealand will play Australia in the final of the women's four-nation tournament tonight.
Wins in the last round of pool play at North Harbour Hockey Stadium last night assured the long-time rivals of another chance at bragging rights.
Already through to the final, Australia wound back the intensity somewhat but still beat India 1-0 in the early game, with Georgina Nanscawen's goal from a sixth-minute penalty corner separating the teams.
The Black Sticks went into the late game needing only a draw with the United States to book their place in the final.
The teams were locked 1-1 at halftime before two unanswered Katie Glynn field goals in the second half handed the home team their deserved 3-1 win.
New Zealand had other scoring chances but failed to convert any of eight penalty corners, whereas the US got themselves back into the game when they converted their only such opportunity in the 33rd minute when Shannon Taylor scored.
There were anxious times on the New Zealand bench late in the game when captain Kayla Sharland limped off, with coach Mark Hager fearing the worst.
He was relieved to learn a blow to her knee had only opened an old scar, and after having three stitches inserted he is reasonably confident she will be ready for action tonight.
After the disappointing 3-1 loss to Australia on day two, Hager is hoping to bounce back.
"I'm happy to be in the final, even if we could have done better with the penalty corners we had," said Hager. "It was a step up but we are still turning over too much ball.
"We have been working on our defence for some time now, which has reduced our number of attacking options, but we are getting there.
"We also have to be careful not to be caught out on the counter-attack as we were a couple of times tonight."
While he is happy that Sharland is likely to play tonight, he is not too concerned if she does not play.
"We need to learn to play without her if that situation arises," said Hager.
Hager, who watched the Australians beat India, said he was not taking too much from that game, saying "they had nothing to play for".
That will not be the case tonight with the Black Sticks a place ahead of the Australians on world rankings and determined not to give anything away as both teams build towards their Olympic clash later in the year.