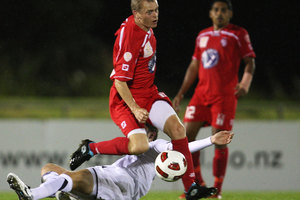 Waitakere United's already miserable season became an abject failure yesterday as results on opposite sides of the city conspired against them.
On a day when underdogs ruled, Waitakere went down 1-0 at home to Canterbury United in the first leg of their ASB Premiership semifinal.
They then saw hopes of a last-ditch claim for a place in the O-League final dashed as Tahiti's AS Tefana lashed Ba 5-0 in the controversially rearranged fixture at Bill McKinlay Park.
Adding to the gloom for the Auckland clubs, Auckland City's season-long unbeaten domestic run was halted when they went down 1-0 to Team Wellington in the first leg of their premiership semifinal at Newtown Park.
Team Wellington got home on the back of Johnny Raj's 33rd-minute header from a Luke Rowe freekick.
Despite several close shaves, the home side held firm and will head north for Sunday's return with the advantage of not only having a one-goal lead but with the knowledge they did so without conceding an away goal.
Waitakere face a bigger challenge.
Beaten three times this season by Canterbury United, they will turn up at the ASB Football Park well aware Canterbury have not lost on the ground's artificial surface this season. Waitakere will be without Jason Rowley, who limped off after 11 minutes with a calf injury; Ryan de Vries, stretchered-off after 43 with medial ligament damage; and Tim Myers, sent off for a ridiculous second yellow card.
It was a shame yet another game at the business end of the season was overshadowed by poor officiating, leading Canterbury coach Keith Braithwaite to tag referee Matt Conger's decision to send Myers off as "crazy".
"There was nothing wrong with his header. He won the ball fairly," said Braithwaite.
Braithwaite was even more gob-smacked by the interference of fourth official Neil Waldron which led to Darren White's 49th minute dismissal.
As Conger prepared to flash yellow for the challenge on Ross McKenzie, Waldron leapt into the fray indicating Conger should go to his other pocket and make it red.
Like the earlier game in Wellington, this one was decided by one first-half goal, with Russell Kamo sticking out a foot to guide a long cross-field ball into the Waitakere goal.
The home side never looked like recovering from that ninth minute setback. They did not help themselves by wasting the 12 corners they won and never threatening to convert.